2015 Joe Hachem Poker Profile





Born on March 11, 1966, Joe Hachem is a Lebanese-born Australian
professional poker player best known for earning his first bracelet
when he won the main event at the 2005 World Series of Poker (WSOP). Hachem, however, is a prolific player with an impressive resume, and his achievements range far beyond that WSOP win. In fact, Hachem is one of the most successful Australian poker players ever, and the first to win a major main event.

Like many pro poker players, Joe's route to professional play was a
circuitous one. He was born in Lebanon, and then moved with his family to Melbourne, Australia at the age of six. He went to school, worked extremely hard and eventually became a chiropractor. He loved it, and might have remained a chiropractor forever. After thirteen years, however, Joe Hachem learned that he had a rare blood disorder affecting the blood vessels in his hands.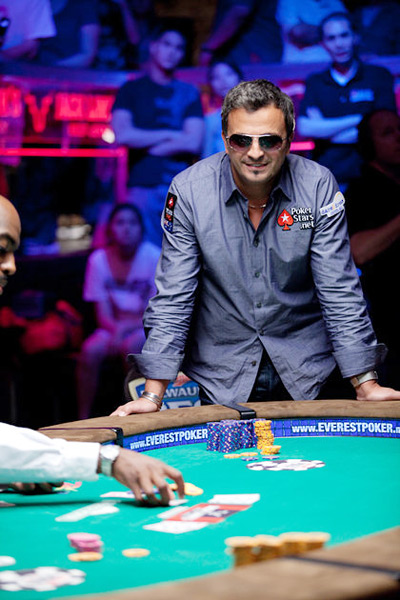 Life was never going to be quite the same for Hachem, but his will to
succeed was strong, and the changes he made eventually made him
happier than he had ever been before. He ran a small yet successful
brokerage firm in Victoria, and he began to play a great deal of
poker, both live and online. Poker was a game he had always enjoyed, and it allowed him, by using the keyboard and mouse, and by manipulating cards, to exercise his hands properly.

Joe Hachem started playing poker online and then at casinos in 1995.
He had always been good with numbers and logic, and he had always
liked poker, but it wasn't until now that he realized just how
naturally it came to him. He was good, very good, right from the
get-go. So Joe began to study the game and play more and more, as much as he possibly could, and it didn't take Joe long to become one of the most successful players among his local scene.

Before arriving at the WSOP in 2005, Joe Hachem had spent a decade winning tournaments and high-profile games at the Crown Casino in Melbourne and all over the Australian circuit. At the start of the 2005 WSOP, he was likely the best player that no one knew absolutely anything about. At the end, they surely did. Joe had outlasted 5,618 other players, and he won $7,500,000, which, at the time, was the largest tournament prize any player had ever won.

As that WSOP unfolded, Hachem became a great story in Australia and all over the world. He earned a lot of support from the audience, especially Australians who would chant "Aussie, Aussie, Aussie, Oi, Oi, Oi!" Overnight, he became a mainstream story at home, had a huge fan base and singlehandedly ignited a popularity boom for poker in his country. The documentary film "Pass the Sugar" includes an in-depth exploration of the effect he had on his country.

After winning the 2005 WSOP, Hachem signed a lucrative sponsorship deal to be a member of Team PokerStars. He was part of an elite group that included other past WSOP winners, such as Chris Moneymaker and Greg Raymer. Together, they gave PokerStars an engaging public face, and they participated in a grueling poker schedule that included online events and live events all over the world.

Hachem's first "big" win after the 2005 WSOP came at the World Poker Tour (WPT) Five Diamond World Poker Classic, and that earned him more than $2.2M. His biggest European win came in 2008 at the Monte Carlo Grand Final of the European Poker Tour (EPT). He also won a wide range of small to mid-size online and live events as he kept up with PokerStars' demanding schedule.

More recently, however, Hachem began taking a quality over quantity approach to his poker schedule because he wanted more time to spend with his family. That likely played a role in PokerStars' decision to part ways with him when his contract expired at the end of 2011. Hachem was not bitter though, and he released a statement thanking PokerStars and vowing an exciting 2012 to fans.

Since winning the 2005 WSOP, Joe freely talks about his style,
techniques and approach to the game. He has some very interesting
perspectives on the game, and many of his opinions have become quite popular and quite discussed. He's not a fan of bluffing, and he lays down more than the average player does.

In 1989, Joe married his wife Jeanie, who he had first met when they
were both teenagers. They have four children together, Anthony,
Daniel, James and Justine, and Dad taught them all poker because he believes it gives them the tools to be disciplined and handle diversity. Joe credits much of his success to Jeanie because she was there for him at all times, and when he wanted to focus on
professional poker play, she supported him with everything she had.

Joe Hachem still makes his home with his family in Melbourne, Australia. Of course, his career has him travelling around the world, but unlike many poker pros, he doesn't dwell in Las Vegas. If he's not at an event, he's home with his family, which is the most important aspect of his life. In his free time, he enjoys playing golf, and being active in the community. He's just a great person who proves that role models can come from all works of life, even pro poker.

Career Highlights

• 2005 WSOP $1,000 No Limit Hold 'em — 10th $25,850
• 2005 WSOP $10,000 Championship — 1st $7,500,000
• 2006 WSOP $2,500 Shorthanded Hold 'em — 2nd $256,800
• 2006 WSOP $2,500 Pot Limit Hold 'em — 4th $90,482
• 2006 WPT Five Diamond World Poker Classic — 1st $2,207,575
• 2007 Poker After Dark "WSOP Champions II" — 1st $120,000
• 2007 APPT Macau $2,500 No Limit Hold 'em — 8th $24,288
• 2008 EPT €10,000 Monte Carlo Grand Final — 11th $161,191
• 2009 EPT London £2,000 8 Game Championship — 1st $67,499
• 2011 The Big Event Main Event — 2nd $300,000



Photo: GreasieWheels.com


Recent Poker King Articles That Mention Joe Hachem:


Big Names Turn Out For Day 1c of World Series of Poker Main Event

Phil Ivey Names His Caesars Cup Team

Aussie Millions Update: Dan Smith Wins $100k Challenge, Day 1b of Main Event Completed

Stars Converge on 2012 Aussie Millions $100k Challenge

Joe Hachem No Longer With Pokerstars