Earning Free Bonus Money with our Pokerstars Marketing Code



Pokerstars Marketing Code Free Money --> THEKING

You may already know that Pokerstars is currently the largest online poker room in the world. They have grown in leaps and bounds over the past couple of years, officially taking over the title of "World's Largest Online Poker Room" after Party Poker pulled out of the US market.

What you may not know is that Pokerstars gives all of their new customers the opportunity to earn free bonus money when they first sign up and deposit on the site.

That's right - you are eligible to earn up to $600 in free bonus money when you sign up and make your first deposit on Pokerstars.com.

This is a great way to build your bankroll while you are getting your feet wet on Pokerstars.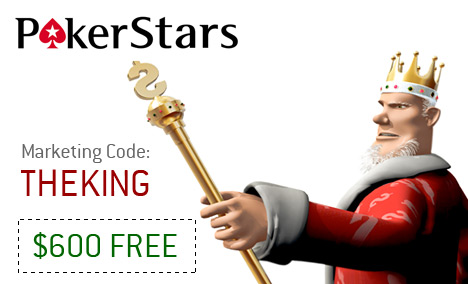 Now - you are probably wondering a couple of things:

1. How do I qualify for this bonus money?

2. What is the catch?

To answer the first question, "how do I qualify for this bonus money", it's really simple.

When you are signing up for your brand new account at Pokerstars, you will be prompted for a "Pokerstars Marketing Code".

At this point, enter THEKING.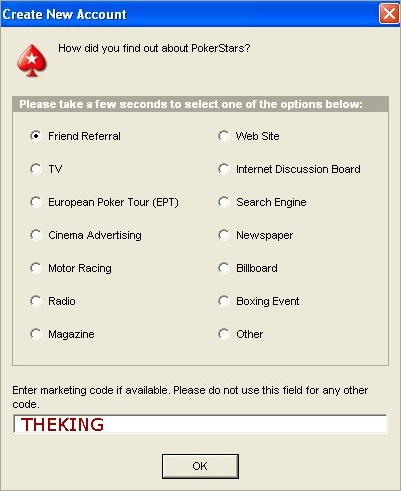 Now, finish signing up for your account.

In order to qualify for this bonus, you must deposit real money onto Pokerstars.

When you hit the Cashier screen, you will be greeted with a number of different depositing options.

Choose the one that works best for you.

You will then be prompted for a "Pokerstars Bonus Code". You need to enter STARS600 at this point.

Now, make your deposit. Keep in mind that this is a MATCHING bonus that Pokerstars offers, meaning that they will match the size of your initial deposit with a bonus of up to $600.

So, if you choose to deposit $15, then you will be eligible for a maximum of $15 in bonus money.

Now, to answer your second question - the only "catch" is that bonus money must be "earned" by playing at real-money cash game tables, SNGs or MTTs.

For every dollar in bonus money that you are eligible for, you must earn 10x that amount in Base FPPs.

So, if you are eligible for a bonus of $20, then you must earn 200 Base FPPs in order to clear the entire bonus.

Base FPPs, as you will find out, are earned through participation in real money games.

The faster that you earn your bonus, the faster that you will receive your free bonus money.

Pokerstars gives all of their new customers up to six months to fully earn their free bonus money.

Once you have earned your free money on Pokerstars, it is yours to do with what you please. You can play with it on the tables, send it to a friend or withdraw it from your account altogether.

Please note: any unearned bonus money will be forfeited at the end of the six month period.

Are you ready to earn your free bonus money on Pokerstars?

Well, don't forget to enter the Pokerstars Marketing Code of THEKING when signing up to qualify for your free money.

Best of luck on the tables!

THE KING