Kangis Profile 2015





Player: Kangis

--

Who is "kangis" on Pokerstars?

The answer to that question is Kane Kalas. In addition to playing as "kangis" on Pokerstars, Kalas also plays as "Nascar_1949" on Full Tilt Poker and "Mikel_120" on Ultimatebet.

According to his profile on Pokernews Strategy (where is he an instructor), Kalas went from $.50/$1 NLHE to $25/$50 No Limit Hold'em within his first two months of playing professionally.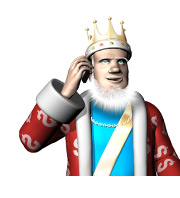 According to PTR, Kane "kangis" Kalas is a lifetime $10k loser on Pokerstars over a total of 103,371 hands. Kalas has fared much better on Full Tilt Poker, where he has made an estimated $637k over a total of approximately 300k hands.

To prepare for his "Superstar Showdown" match against Viktor "Isildur1" Blom, Daniel Negreanu played quite a few hands against "kangis" and did quite well. As a matter of fact, shortly after getting destroyed by "Isildur1" in their first "Showdown" match, Negreanu played "kangis" and won approximately $35k.

--

A few other notes against Kane "kangis" Kalas:

-he was born in May of 1989

-he is an actor and is also a vocalist with "an emphasis in opera"

-he has reportedly announced the play-by-play on-air during several Philadelphia Phillies games





Click Here To Play Poker Against Kangis





Recent Articles That Mention Kangis:

None.


View all Online Poker Profiles