Maria Ho Profile 2015





Player: Maria Ho

--

Born in Taipei, Taiwan, Maria Ho is an American professional poker player who makes her home in Arcadia, California. She was born into a traditional Chinese family, and she became fluent in both English and Mandarin at very young age. At just four years old, her family moved from Taiwan to the U.S., settling just outside where she currently lives. Although she has been in the US most of her life, Maria Ho retains strong ties to her heritage and the country where she was born.

Like many professional players, Maria Ho took an unusual path to her career in poker. As far as games went, mahjong was her first love, and she hadn't even played poker prior to attending college. However, while taking a psychology course at the University of California, San Diego (UCSD), she took an interest in the competitive mindset. This curiosity led her to try poker, which was very popular among her peers.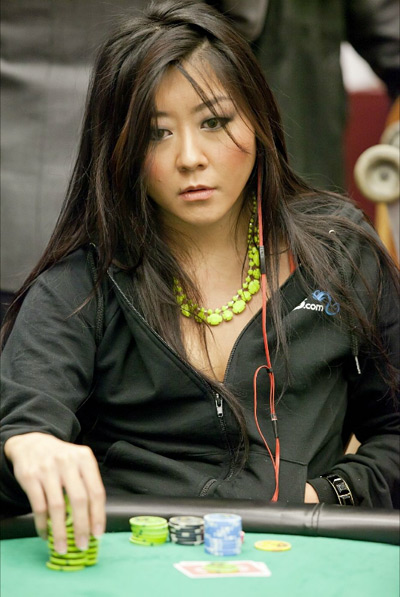 Soon, her academic interest had developed into a full-blown love and appreciation for poker. Within months of learning, Maria Ho was regularly participating in limit ring games held at the casinos on local Indian reservations, and she was having success against players who had much more experience than she did.

In 2005, Maria Ho graduated from UCSD with a BA in Communications and a minor in Law. Initially, she intended to enter law school directly. However, by this time, she was playing in high-stakes poker games, and was having quite a bit of success. In fact, she was doing well enough to support herself, so she decided to pursue her poker career first, and see where it led her. If she performed below her expectations, the plan was that she could always return to her original path and enter law school.

For the next couple of years, Maria Ho continued winning enough to lead a comfortable lifestyle, and she supplemented her poker income by working with the family business. In the process, she continued refining her poker skills and gaining crucial experience. All of that hard work finally paid off at the 2007 World Series of Poker (WSOP), where Maria Ho finished 38th and won $237,865. More importantly, she was the WSOP Last Woman Standing, a distinction that immediately put her on the map.

In 2009, Maria Ho gained a great deal of mainstream recognition when she appeared on The Amazing Race 15, CBS' Emmy Award-winning reality show. Her partner on that show was Tiffany Michelle, her best friend and fellow female professional poker player. Tiffany was the Last Woman Standing at the 2008 WSOP. Although Maria Ho was quite popular by this point, it wasn't until 2011 that she really began to establish herself as a lethal professional presence and one the game's best up-and-comers.

At the 2011 WSOP, she competed heads-up for a bracelet in the $5,000 No-Limit Texas Hold 'em, and although she did come up short, finishing second, she won $540,020, which still stands as the largest amount of money ever won by a woman at a WSOP event. Several months later, Maria Ho participated in the WSOP Europe (WSOPE), where she finished 27th, in the process becoming the first woman ever to earn the Last Woman Standing honor at both the WSOP and the WSOPE.

Beyond the notable wins at the 2007 and 2011 WSOP, Maria Ho has had a great deal of WSOP success. In fact, she's had twelve WSOP cashes altogether, and at the World Poker Tour (WPT), she's earned three cashes. Her other high-profiles finishes include a 10th place finish at the WPT Bellagio Cup, a 6th place finish in South Africa at a WSOP circuit event, and a 2nd place finish at the $10,000 Buy-In 8-Game tournament at the Aussie Millions event in Melbourne.

In 2010, World Team Poker (WTP) launched as an international team-based poker league. The core concept is a televised poker tournament series where country-based teams of professional poker players square off for national pride, and the hope is that it can one day be to poker what the World Cup is to international football. For the inaugural event, the WTP invited Maria Ho to represent China. She did, helping China to become the first ever winners of the WTP.

Having earned nearly $1.2M, Maria Ho is currently the twelfth winningest female poker player in the world. She is smart and highly skilled. She has a presence that makes her popular on television and in print. And she has a disposition that has made her one of the game's most respected players. That respect has earned her coveted invitations to some of the most exclusive poker events in the world. Recently, she signed a new sponsorship deal with WinStar World Casino, where she'll share spokesperson duties with Greg Raymer.

Beyond playing the game, Maria Ho also serves as an on on-camera host for WSOP.com, which provides coverage of all WSOP events. She's even been a commentator for ESPN 360 during the final table of the WSOP main event, and she writes for numerous online poker publications, ranging from magazines to websites. Her most notable piece is a chapter contributed to the book "Winning Women of Poker: Secret Strategies Revealed."

Maria Ho also has many interests outside of playing poker. She is a dedicated Mahjong player, and she even traveled to Hong Kong in 2008 to participate in the World Mahjong Tour. In addition to the Amazing Race, World Mahjong Tour and ESPN 360, her other notable television appearances include American Idol, The Bonnie Hunt Show and Anderson Cooper 360. She enjoys singing, and has even had some Hollywood gigs. She devotes a great deal of her time to charity, and she still works for her family's highly successful L.A.-based real estate firm.


MariaHo (Maria Ho) Recent Twitter Posts

Photo: GreasieWheels.com


Recent Articles That Mention Maria Ho:

Money Bubble Bursts In World Series of Poker Main Event

Full List of Invitees To National Heads-Up Poker Championship Revealed

Tom Dwan, Phil Ivey Confirmed For National Heads-Up Poker Championship

Phil Ivey Shining in Aussie Millions Main Event

Aussie Millions Update: Dan Smith Wins $100k Challenge, Day 1b of Main Event Completed


View all Poker Profiles