Theo Jorgensen Profile 2015





Player: Theo Jorgensen

--

Theo Jorgensen, known to many simply as Theo J., is a Dane who took a somewhat unusual route to his great achievements as a professional poker player. Upon reaching adulthood, Theo had very little interest in poker and almost no experience. In addition, like many young people, he entered the real world not knowing precisely what he wanted to do with his life. Poker never crossed him mind.

His first step was a college in Copenhagen where he studied Business with the hopes of being an entrepreneur. The early goings were tough, however, and Theo needed to work too in order to pay for college as well as life's basic necessities. He began working at any jobs he could find. Often, he'd work multiple jobs and many of these jobs were temporary, so he got a lot of diverse experience very quickly.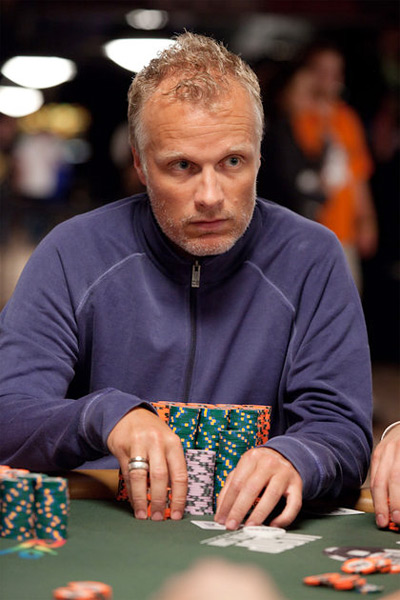 Eventually, he found a more permanent, better-paying position at a local casino. He loved the environment, fit in right away and excelled immediately. In fact, he performed so well that within just a short period, the casino graduated him to a relatively prestigious position as a dealer at the poker tables. Theo J. excelled here as well, and it wasn't long before he knew that he had found his calling.

Nevertheless, Theo wasn't satisfied just dealing cards; he wanted to receive them too. So after several years, he saved enough money and put himself into a position where he could play regularly. By this point, he had played a lot of poker, and he had developed a sophisticated understanding of the game. When it came to poker, he was a superb student, and he had the great benefit of dealing thousands of poker hands and watching them unfold.

Theo's first major win came in October of 2004 in the 7-Card Stud Championship Final of the "Poker EM" Festival in Baden, where the top spot finish earned him more than $125,000. With that win, Theo J. had freedom. He wasn't rich by any means, but coupled with his regular earnings, he now possessed the flexibility needed to focus exclusively on poker. The big results, however, were not immediate.

While Theo continued to win consistently, the winnings were relatively small, especially when compared to the big winnings he had achieved at the poker festival. Theo J. persevered, however, and in February 2006, he finally hit big again, finishing fourth and winning more than $140,000 in the €4,000 No Limit Hold'em Main Event at the Deauville event of the European Poker Tour (EPT).

Still, Theo J. was flying under the radar, and neither the sponsors nor the media were giving him the attention that he had likely already earned. That would all change, however, later in the year when Theo finished in fifth position at the $5,000 7-Card Stud World Championship of the World Series of Poker (WSOP). That win only earned him about $46,500, which was small compared to his other notable winnings. But this was a big finish on a big stage.

With that win, the media recognition came and so did the attention from the sponsors. Theo Jorgensen earned a flurry of offers, but the most prestigious and lucrative was the offer from PokerStars. PokerStars is one of the largest and most popular online poker rooms worldwide. It is also one of the most prominent sponsors of players and events, and this sponsorship gave him the opportunity to go to more big events all over the world.

Several months after the WSOP win, Theo J. participated in his first WSOP Europe (WSOPE) event. In the £10,000 Championship Main Event of the WSOPE, he finished eighth and won more than $170,000. The following year, he participated in the WSOPE again, this time winning the £5,000 Pot Limit Omaha event overall. It was his first bracelet ever, earned him nearly $400,000, and cemented his position as one of poker's most skilled, most exciting up-and-comers.

To date, Theo J. has had a number of other high-profile wins, including a top-30 finish at the 2010 WSOPE Main Event, which earned him more than $250,000. Later that year, he played in his first World Poker Tour (WPT) event, the WPT Grand Prix de Paris. He won that event, which netted him the largest cash winnings of his career so far: $848,736. As of this writing, Jorgensen's career winnings total was nearly $3,000,000.

Theo J. is an intriguing figure at the tables and beyond. When not playing poker, he puts his business knowledge to use as an entrepreneur, expanding his private poker label. When not working, Theo likes to read, but also likes to stay physically active. He does that through a daily workout regimen, but he also plays competitive sports, including soccer, squash, tennis and even boxing.

Theo is also a proud member of Team PokerStars Pro. PokerStars clients can find him playing online often, using the handle "Theo J." Jorgensen is also an active member at Full Title Poker, where he plays using the humorous handle "THEDONKEYNO1." As part of a promotion, Theo even faced off against Full Tilt Poker pro Gus Hansen in a boxing match on GusHansenTV.com. Theo J. was victorious.

Theo lives in Las Vegas often, and he travels all over Europe, but he still makes his true home in Copenhagen. His team goal is to expand the team's success and notoriety even more. His individual goal is to bring even more titles to his home of Denmark, and he'd like to finish his career as the most successful professional poker player in the history of his country. That would be no small feat, but if anyone has the tools to do it, Theo J. does.

Career Highlights

• 2004 Poker EM 7-Card Stud Championship — 1st $125,248
• 2006 EPT Deauville No Limit Hold'em Main Event — 4th $141,643
• 2007 EPT Copenhagen No Limit Hold'em Main Event — 4th $177,225
• 2007 WSOP 7-Card Stud World Championship — 5th $46,530
• 2007 WSOPE Championship Main Event — 8th $171,308
• 2008 WSOPE Pot Limit Omaha — 1st $397,617
• 2009 WSOP Pot Limit Omaha — 8th $26,955
• 2010 WPT Grand Prix de Paris €10,000 Main Event — 1st $848,736
• 2010 WSOP Championship Main Event — 30th $255,242


Recent Articles That Mention Theo Jorgensen:

Tudor Purice Leads EPT London Main Event After Day 2

World Series of Poker Main Event: Players Combine For Day 3

Theo Jorgensen Joins "Team Pokerstars Pro"

Day 7 of World Series of Poker Main Event Comes To a Close; Joseph Cheong Leads

Cuong Nguyen Chip Leader of WSOP Main Event at Day 7 Dinner Break


View all Poker Profiles