2015 Superstar Showdown Updates


The Superstar Showdown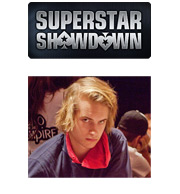 Shortly after inking Viktor "Isildur1" Blom to a sponsorship deal, Pokerstars announced the launch of the "Superstar Showdown".

The "Superstar Showdown" would pit Blom against some of the very best players in the world. Four tables would be played at once, with the winner being the player who was ahead after a minimum of 2,500 hands. Blom's opponent would be given the opponent to pick either No Limit Hold'em or Pot Limit Omaha.

--
Viktor "Isildur1" Blom's Record: 11-3

Viktor "Isildur1" Blom's Cumulative Profit: $1,194,630


Next Opponent: ?
Date: ?




Match #1:

Opponent: Isaac "philivey2694" Haxton
Winner: "philivey2694", $41,701

Recap: Isaac "philivey2694" Haxton Wins First Pokerstars "Superstar Showdown"

--



Match #2:

Opponent: Tony G
Winner: "Isildur1", +$44,820

Recap: "Isildur1" Tames Tony G in Second "Superstar Showdown"

--



Match #3:

Opponent: Daniel "w00ki3z." Cates
Winner: "Isildur1", $51,196

Recap: Viktor "Isildur1" Blom Defeats Daniel "w00ki3z." Cates in "Superstar Showdown"

--


Match #4:

Opponent: Eugene "MyRabbiFoo" Katchalov
Winner: "Isildur1", $111,750

Recap: "Isildur1" Crushes "MyRabbiFoo" in Fourth Superstar Showdown

--



Match #5:

Opponent: "Dodgyfish72"
Winner: "Isildur1", $10

Recap: Superstar Showdown: Blom Beats Qualifier Dodgyfish72 By One Big Blind

--



Match #6:

Opponent: Daniel "KidPoker" Negreanu
Winner: "Isildur1", $150,000

Recap: "Superstar Showdown" Ends Early After "Isildur1" Takes $150k Off of Daniel Negreanu

--



Match #7:

Opponent: Daniel Negreanu (rematch)
Winner: Daniel Negreanu, $26,500

Recap: Daniel Negreanu Wins $26,500 in Second "Superstar Showdown" Match

--



Match #8:

Opponent: Scott "urnotindangr" Palmer
Winner: "Isildur1", $61,182

Recap: "Isildur1" Wins Again, Moves to 6-2 in "Superstar Showdown" Matches

--



Match #9:

Opponent: Mastermixus
Winner: "Isildur1", $1,279

Recap: "Isildur1" Beats Qualifier "Mastermixus"

--



Match #10:

Opponent: Rui "PepperoniF" Cao
Winner: "Isildur1", $150,000

Recap: "Isildur1" Blasts Rui "PepperoniF" Cao In Tenth "Superstar Showdown"

--



Match #11:

Opponent: Terje "Terken89" Augdal
Winner: "Isildur1", $150,000

Recap: Superstar Showdown: "Isildur1" Crushes Terje "Terken89" Augdal

--



Match #12:

Opponent: Isaac "philivey2694" Haxton
Winner: "philivey2694", $5,093

Recap: Isaac "philivey2694" Haxton Wins Rematch Against Viktor Blom

--



Match #13:

Opponent: Andrew "Kanu7" Millar
Winner: "Isildur1", $37,687

Recap: "Isildur1" Posts Profit of $37,687

--



Match #14:

Opponent: Isaac "philivey2694" Haxton
Winner: "Isildur1", $500,000

Recap: "Isildur1" Finishes Haxton, Wins $500,000

--



Latest Superstar Showdown News

SCOOP 2012: The Viktor "Isildur1" Blom chronicles
Posted: Wed, 09 May 2012 11:54:47 -0800

SCOOP 2012: The Viktor "Isildur1" Blom chronicles
Posted: Wed, 09 May 2012 11:54:47 -0800

SuperStar Showdown: Viktor "Isildur1" Blom wins $1 million match over Isaac Haxton
Posted: Mon, 02 Apr 2012 14:12:55 -0800

SuperStar Showdown: Viktor "Isildur1" Blom wins $1 million match over Isaac Haxton
Posted: Mon, 02 Apr 2012 14:12:55 -0800

SuperStar Showdown: Blom out to a $198,438 lead over Haxton in million-dollar match
Posted: Sat, 31 Mar 2012 14:07:18 -0800



Recent Twitter Updates from Viktor "Isildur1" Blom