Bodog Download







Click Here To Download Bodog Software



--




--




Overview

Bodog used to be known just for sports betting, but not anymore. A few years ago, the company shrewdly decided to make the leap into online poker, leveraging their brand and their player base to form a poker site that they had hoped would rival some of the biggest fish in the online poker scene. Calvin Ayre has put significant marketing dollars into his poker site, signing some of the top names in poker to sponsorship deals and spending countless dollars trying to come up with a software package that his players will love. Bodog Poker made a big splash after Jamie Gold won the World Series of Poker, signing him to a sponsorship deal and then subsequently letting him go. Bodog is also known for their big overlays in their major Sunday tournament.

Software / Graphics

Ok, this is a personal choice. Talk to 100 people about Bodog's software, and 50 people will hate the software, and 50 people will love the software. There is really only one way to find out for yourself, and that's by downloading and testing it out. The one thing that you can say for Bodog is that they really do put a lot of their dollars into trying to find the perfect piece of poker software.

My personal opinion? I love the software. It's different, it's clean, and it's easy to follow. Now, if they could only do something about their hand histories..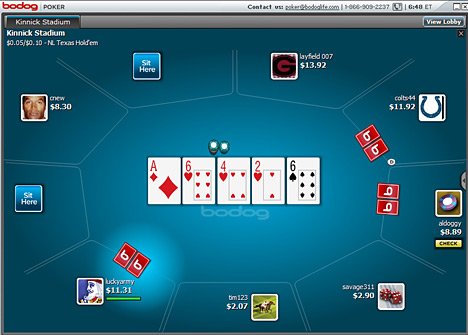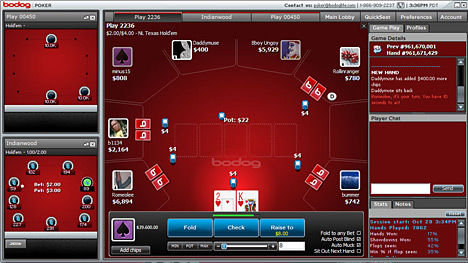 Tournaments

Like any other major poker site, Bodog knows where it's bread is buttered, and that's with their online tournaments.

Bodog focuses on Hold'em, and has a very wide variety of No Limit Hold'em tournaments. There are freerolls, there are private tournaments, and there are Doublestack tournaments. The most mouth-watering thing about Bodog is the fact that most of their tournaments have overlays, making it a compelling value for any serious poker player.

While Bodog may not have the prize pools that some of the other sites such as Full Tilt Poker and Pokerstars have, they make it for it in the fact that there are many poor poker players playing on the site, due to the fact that you can easily move money from your sports betting account to your poker account. This plus the overlays makes for a very good value.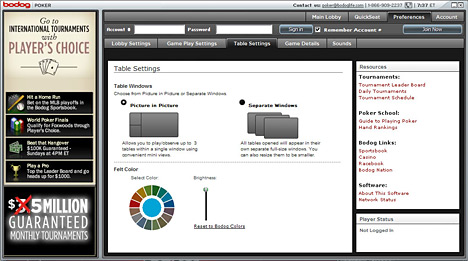 Cash Game Play

Bodog offers a number of different cash games, including Limit Hold'em, Pot Limit Hold'em, No Limit Hold'em, Pot Limit Omaha, Omaha Hi/Lo, 5 Card Stud, 7 Card Stud, and 7 Card Hi/Lo.

The games on the site are much smaller than some of the other sites such as Full Tilt Poker and Pokerstars. The highest limit Hold'em game is $30/$60, and the highest No Limit Hold'em game is $10/$20. For Pot Limit Omaha, again, the highest limit is $10/$20.

But still, I keep coming back to the most compelling reason to play on Bodog Poker, and that is the poor players. There is why many cash game pros will play on Bodog, because even at $10/$20 they can have huge paydays due to the poor quality of opponents that they are facing.

Pros

Bodog, as mentioned, used to count Jamie Gold as one of their "pros" before they severed ties with him (probably due to the immense dislike most people have for him).

Bodog, however, has a very solid line-up of pros on their roster, including David Williams, Josh Arieh and Evelyn Ng.

Clearly Bodog is targeting a certain type of pro to be on their roster; young, brash and talented, and all three of these players fit the bill, and are great choices to represent the site.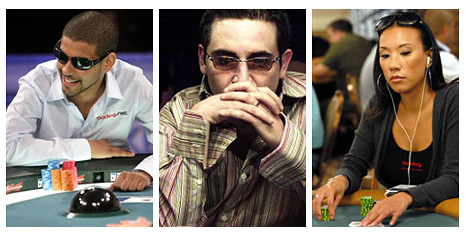 Freerolls

Bodog is not afraid to spend their money, and because of this, they offer up a wide array of freerolls on a daily basis, including $500 Guaranteed freerolls and New Players Invitational Freerolls. Due to the monster success of their sportsbook, Bodog Poker can afford to be very generous when it comes to their freerolls.

Promotions

Bodog has a number of interesting promotions. First off, their one Billionith Hand celebration is approaching, where you can win significant sums of money for being involved in landmark hands, including the 1 Billionth hand dealt. The company has their weekly $100k Guaranteed tournament. They also have a "Play a Pro" promotion, where if you top the leaderboard you get a chance to go heads up with a pro for $1000. Lastly, Bodog usually goes wild in the months leading up to the World Series of Poker, giving away hundreds of seats to the big event.

Deposit Methods

Bodog offers a wide variety of deposit methods, including Credit Cards (Visa and Mastercard), checks, Moneybookers and E-checks.

Customer Support

They are the second best in the industry behind Pokerstars in my humble opinion. Excellent, excellent customer support staff who know how to treat their customers right. If you have a question or a problem, there is no doubt that Bodog will handle your request in a timely and respectful fashion.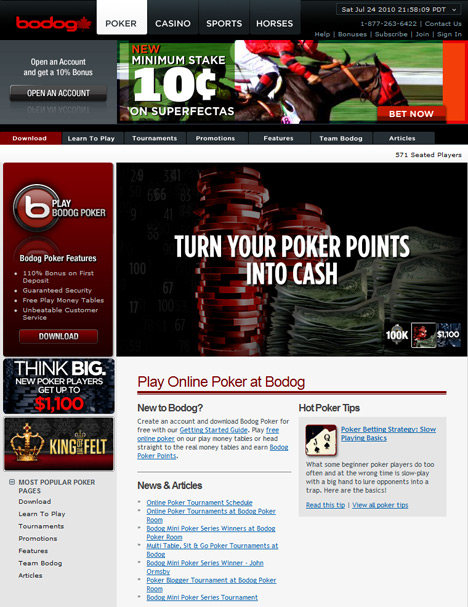 Click Here to Visit Bodog Poker

Receive a 100% Bonus of Up To $1,000!






Click the link above to be eligible for a 100% Deposit Bonus Up to $1,000 when you sign up.


Bodog Bonus Code : 90491