June 2018 Promo Code for Pokerstars
Pokerstars Promo Code June 2018
-->
THEKING
When it comes to online poker rooms, there is no bigger room than Pokerstars.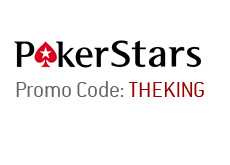 How did they become so big? How did they come to be a full 2 1/2 times bigger than their closest competition?
If you are looking into why Pokerstars is so big, you can probably narrow it down to three main reasons:
1. Game selection. Pokerstars has the biggest client base of any online poker room, and therefore has the greatest number of games going at any time. Because of their massive client base, most people choose to sign up at Pokerstars compared to other sites. Let's be honest - the most appealing site is the one with the highest number of players. Because of this size advantage, Pokerstars gains new customers at a faster rate than any other site online.
2. Promotions. From the Sunday Million to the WCOOP to the SCOOP (Spring Championship of Online Poker) to the PCA, Pokerstars has a promotion for everyone. Whether you are a complete novice or an experienced professional, Pokerstars will have a promotion that is suited to your needs. Pokerstars is a very detail oriented company, and they make sure not to exclude anyone from the fun, no matter how big or small of a customer they are.
3. A ridiculously easy to clear welcome bonus. Pokerstars offers all of their new players an opportunity to earn a 100% deposit bonus of up to $600.
The difference between Pokerstars and other rooms? Pokerstars gives their players a full six months to clear their bonus, while other rooms only allow for 1-4 months.
If you are a casual weekend player, then this makes a big difference and will allow you to more easily clear your bonus.
In order to qualify for this bonus, simply follow the following steps:
1. Enter THEKING while prompted for a "Pokerstars Marketing Code" during the sign-up process.
Note
: This code is good for all of 2018!
2. Enter STARS600 when prompted for a bonus code during the depositing process.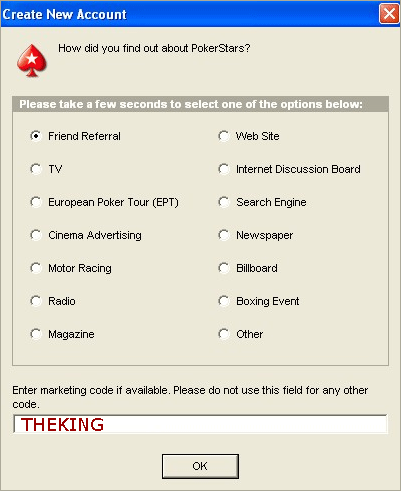 If you don't do these two things, then you might not receive credit for your bonus!
Bonuses can be "cleared" by participating in real-money cash games, SNGs and MTTs. In order to clear your bonus, you need to earn 10x the size of your bonus in base FPPs. So if you are eligible for a deposit bonus of $50, then you would need to clear 500 base FPPs in order to unlock your entire bonus.
Remember - the size of your initial deposit determines the size of your deposit bonus. If you decide to deposit just $20, you will only be eligible for a deposit bonus of $20! Further deposits will have no effect on the size of your bonus.
Don't forget to enter the
Pokerstars promo code 2018
of
THEKING
when signing up!