$1,500 Titan Poker Freeroll on March 11th
Want to qualify for a $1,500 freeroll on Titan Poker? Here's how:
On March 11th (3 pm EST), Titan Poker will be hosting a very exclusive $1,500 freeroll on their site.
There are two sets of people who can qualify for this freeroll:
1) People who sign up to Titan Poker using the bonus code
pking2012
and make a minimum deposit of $20
2) People who have signed up for Titan Poker through this site and have made at least one deposit since January 1st, 2012
That's it! If you are in either group, then you are now qualified for the $1,500 freeroll.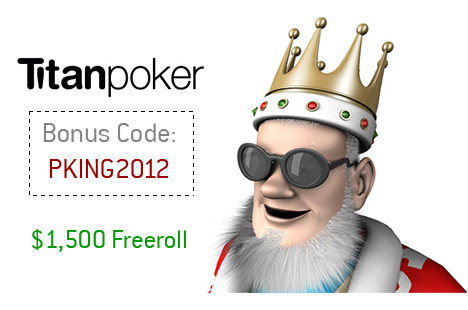 Also, if you sign up and deposit on Titan Poker today, you will receive an initial 200% deposit bonus of up to $2,000. That's right - just for signing up and depositing on the site, Titan Poker will give you the opportunity to earn a bonus of up to $2,000. Once you have earned this bonus, you can do with the money what you please.
--
That's it! There is a reason why Titan Poker has grown in leaps and bounds over the past number of years. See you at the freeroll!
Titan Poker Freeroll Deposit Code -
PKING2012