September 2010 Party Poker Bonus Code
Party Poker Bonus Code September 2010
-->
KINGBONUS
September is one of the busiest months of the year in the poker world.
Not only does the EPT London take place in September (well, at least it starts in September), but the World Series of Poker Europe also goes down in September as well.
The action on the poker tables is busy as well, as many people have returned back from summer vacation and are in need of a diversion.
What better way to distract yourself than to play a little online poker on Party Poker?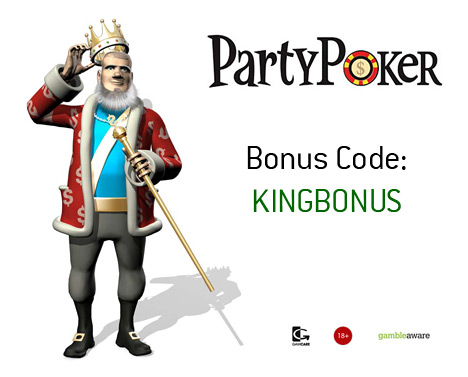 Party Poker offers something that is called the "Super Sign-Up Bonus". This is a matching bonus of up to $500 that is available to all new customers who sign up.
Qualifying for the bonus is super easy. All you have to do is:
1. Enter
KINGBONUS
when prompted for a "Party Poker Bonus Code" during the sign-up process.
2. Deposit real money onto the site.
Remember - the size of your INITIAL deposit on the site determines the size of your bonus. So, if you make an initial deposit of $200, then you would be eligible for a maximum bonus of $200.
Note: you must deposit a minimum of $25 to qualify for this bonus.
Bonuses are "earned" by playing in real money cash games, MTTs and SNGs. The more that you play, the faster that you will earn your bonus.
Bonuses are earned at a rate of $1 for every 5 PartyPoints. So, if you were eligible for a bonus of $100, then you would need to earn a total of 500 PartyPoints in order to release your entire bonus. Bonuses are released in 20% increments.
Party Poker will give you up to 90 days to earn as much of your bonus money as possible. This is usually more than enough time, even for the "weekend warriors" who play just a few days per week.
--
September is a great time to sign up on Party Poker. The tables are literally teeming with players right now, as the poker world is fired up about the variety of different "live" tournaments that are currently taking place.
Don't forget to enter the bonus code of KINGBONUS when you are signing up! This code, which is good for all of September/2010, will qualify you for the special Party Poker bonus.
Good luck on the tables!
Party Poker Bonus Code September 2010
-->
KINGBONUS