Marketing Code for Pokerstars.eu
Pokerstars.eu Marketing Code
-
POKER-KING
Well, in case you have been living under a rock somewhere, the US government has decided to seize the Pokerstars.com domain name.
No worries - Pokerstars has decided that their new home on the Internet is Pokerstars.eu. Note: Pokerstars no longer accepts real money players from people in the United States, so please keep that in mind before signing up and trying to deposit.
What has changed at Pokerstars? Not much - the site still has the largest player base in the world, the best customer service staff in the world and one of the most generous initial welcome bonuses in the world.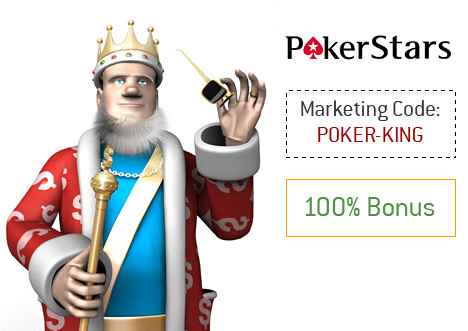 The question that you might have is - how can you qualify for your initial bonus offer on Pokerstars.eu? Here are the steps to follow:
#1 - Download the Pokerstars software.
#2 - When prompted for a
Pokerstars.eu Marketing Code
, enter
POKER-KING
#3 - Make a real money deposit. When prompted for a Pokerstars Bonus Code, enter STARS600.
#4 - Play in real money cash games, SNGs and MTTs on the site.
--
It's important to note that this is a matching bonus, meaning that Pokerstars will match the size of your first few deposits on the site with a bonus of up to $600 (Pokerstars allows three deposits to count towards your bonus, provided that the second and third deposits occur within 90 days of your first deposit).
So, to break this down - let's say that you make a $100 deposit on Pokerstars.eu on January 1st, followed by a $200 deposit on January 15th and a $200 deposit on January 31st. This would mean that you would be eligible for a $500 bonus ($100 + $200 + $200).
Pokerstars.eu will give you up to 180 days (six months) to earn as much of your bonus money as possible.
--
If you are going to sign up to Pokerstars, then you might as well take full advantage of their generous bonus offer. After all, it's free money, so why not?
There are no strings attached at all - any money that is earned through this bonus offer is yours to do with whatever you please.
Best of luck at the tables!
Pokerstars.eu Marketing Code
-
POKER-KING