The Titan Poker 200% Bonus Offer
Titan Poker 200% Bonus Code
-
THEKING
If you have never heard of Titan Poker, then let me introduce you.
Titan Poker is one of the largest members of the iPoker network. The iPoker network is the fourth largest network in the room, behind PS, FTP and PP.
After the recent "Black Friday" events in the online poker world, Titan Poker decided that they were going to offer something extra special to their new customers. So, they decided to unveil their new 200% bonus of up to $1,000.
This new bonus offer is available to anyone who hasn't already deposited on Titan Poker. If you have an account on a different iPoker room, then you STILL qualify for the 200% Titan Poker bonus of up to $1,000.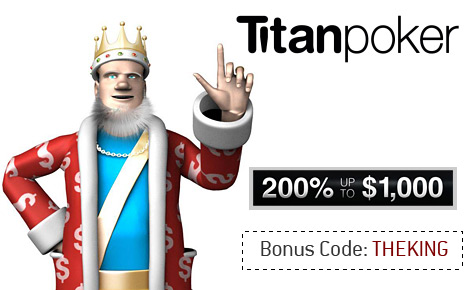 Click Here to Visit Titan Poker
So, the question that you are probably asking is - how do I qualify for this bonus offer?
It's really simple, just follow these steps:
1. Download the Titan Poker software.
2. Enter
THEKING
when prompted for a
Titan Poker Bonus Code
during the sign-up process. This will qualify you for the
200% bonus of up to $1000
.
3. Make a deposit. Remember, the size of your initial deposit is what determines the size of your bonus, so make it count!
4. Play in real money games on Titan Poker. This includes cash games, SNGs and MTTs.
--
Titan Poker will give you up to three months to earn as much of your bonus money as possible. The more you play, the faster you will earn your bonus.
At the end of the three month period, any unearned bonus money will be forfeited. Having said that, most people have no trouble clearing their bonus within the three month period.
--
If you are a little worried about playing on FTP and Pokerstars at the moment and live outside of the United States, then why not give Titan Poker a try? They are a safe and secure choice, and they are currently offering a 200% bonus of up to $1,000. Why not take advantage?
Titan Poker 200% Up to $1,000 Bonus Code
-
THEKING

Click Here to Visit Titan Poker