How Much Money Does Daniel Negreanu Make From His Pokerstars Deal?
Q: How Much Money Does Daniel Negreanu Make From His Pokerstars Contract?
A: In June of 2007, Pokerstars landed the services of Daniel Negreanu after signing him to a lucrative deal.
The deal made perfect sense for Pokerstars, as they were trying to actively trying to make inroads into non-US markets, and Daniel Negreanu is one of the most popular poker players in the world.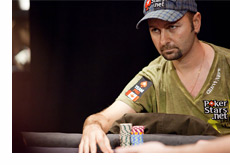 Daniel Negreanu
wasn't just going to be another name on a long list of sponsored pros - Daniel Negreanu would end up becoming THE face of Pokerstars. You will rarely see a Pokerstars commercial now that doesn't involve Daniel Negreanu in some way.
So how much is Pokerstars paying for Daniel Negreanu's services?
Now, this is obviously just speculation, as I'm not Daniel Negreanu's accountant and I don't cut the checks at Pokerstars.
What I have heard is that Daniel Negreanu makes between $2 million and $4 million per year from his Pokerstars deal. If I had to guess, I'd say that the total yearly value of Negreanu's contract is between $3 and $4 million.
This would likely include a combination of:
-base yearly salary
-assortment of online and "live" buy-ins
-paid expenses when playing in Pokerstars tour events (EPT, NAPT, etc)
Negreanu is also obviously going to receive some very nice benefits in exchange for the time that he puts in playing on
Pokerstars
.
In addition, Negreanu also likely receives some sort of a bonus from Pokerstars when he makes the final table of a televised tournament, and an even bigger bonus when he wins a televised tournament.
Photo: GreasieWheels.com
Back to
Answers