Definition of Bitcoin Poker
What does the term "Bitcoin poker" mean in the world of poker? What is meant by the term "Bitcoin poker"?
"Bitcoin poker" refers to online poker rooms that allows players to withdraw and deposit using the cryptocurrency Bitcoin.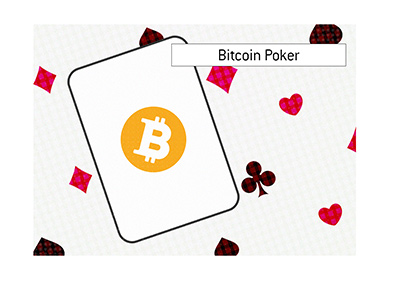 Many online poker rooms still don't offer the ability to use cryptocurrency, and this is mainly due to the regulations that they must adhere to. It's the regulators that aren't allowing Bitcoin to be used at online poker rooms, and hopefully this will change in the future.
Most of the online poker rooms that target "black" or "grey" markets offer the use of cryptocurrencies, and this is mostly due to necessity, as they usually have limited access to credit card billing solutions.
Many banks still don't like gambling transactions, even if the transaction takes place in a market where online poker is legal and regulated.
This makes Bitcoin (and other cryptocurrencies) the perfect solution for funding and withdrawing from online poker accounts, and this is why rooms that offer Bitcoin funding, like ACR and others, are still so popular.
Many poker players use Bitcoin in this day and age, and this is why people will still play on sites like ACR even if they reside in markets where online poker is legal. It's difficult to move thousands of dollars off and on a site using fiat currency, though Bitcoin makes it exceptionally easy, even for larger amounts of money.
There is a reason why almost all of the nosebleed online cash game action in this day and age takes place at sites that offer cryptocurrencies like Bitcoin.
--
Recent Articles That Include The Term
Bitcoin Poker
:
Bryan Micon Sentenced To Probation
Bryan Micon Receives Probation, Fine
Bryan Micon Charged With Felony in Nevada
SealsWithClubs.eu Shuts Down After Raid on "Chairman" Bryan Micon's Residence
Bitcoin Breaks Below The $200 Mark
Back to the -
Poker Dictionary