"Home Games" Can Easily Be Set Up at Two Major Online Poker Sites
Q: Where Can I Play Online Poker With Friends?
A: Let's say that you want to get a few of your friends together to play some poker at an online poker room.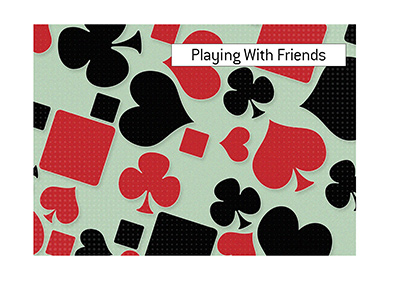 You don't want people at the table that you don't know - instead, you want to make it invite-only, limited to just your friends.
Is this possible?
Yes, it is possible. Two of the biggest online poker sites in the world - Pokerstars and 888Poker - offer the ability to have private "home games" for just you and your friends.
You can host small cash games, small tournaments or really big tournaments.
At
Pokerstars
, you can create your own "Poker Club".
In order to get into the Club, you will need an invitation code, which will keep unwanted people out.
At Pokerstars, you can set up real money or play money cash game or tournament tables that cover the following games:
Texas Hold'em, Omaha, Omaha Hi/Lo, Stud, Stud Hi/Lo, Razz, 5-Card Draw, 2-7 Single Draw, 2-7 Triple Draw, HORSE, NLHE/PLO, 8 Game and Badugi.
With tournaments, you can choose the game, the number of players per table, the buy-in, the format, the game speed, the payout structure and more.
-
With 888Poker, you can utilize their "Play With Friends" feature to set up your own cash game or tournament, that is available to just you and your friends.
These cash games and tournaments are locked by a password, so if you don't have the password, you won't get in.
Just like with Pokerstars, you can choose the game of choice, the buy-in, the payout structure, the stakes and more.
You can also set up a freeroll tournament and add money to the prize pool. This comes in handy if you want to reward members or subscribers of something, such as a Twitch.tv stream.
Just like with Pokerstars, there are many different options available when it comes to setting up your cash game or tournament.
-
My advice is to play around with the settings before sending out invitations to your friends.
You will probably find that more of your friends have Pokerstars accounts compared to 888Poker, so Pokerstars might be the better option.
With that being said, both sites are great options and are perfectly safe to play on.
Back to
Answers