Definition of 6-Handed
What does the term "6-handed" mean in the world of poker? What is meant by the term "6-handed"?
In poker, "6-handed" means that either: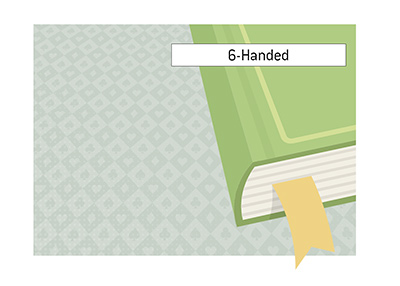 1) The game has a maximum of 6 players
2) There are currently six players in a game
"6-handed" tournaments have dramatically increased in popularity over the years, as a smaller number of players at a table means that you will see more hands, and it also allows players to be more aggressive.
Compare this to a 9-handed or even 10-handed game, where there will be considerably fewer hands to play per hour of play.
-
6-handed tournaments and cash games are very popular, and the World Series of Poker has multiple 6-handed tournaments to play every year.
There is definitely a different strategy involved in 6-handed play vs 9-handed or 10-handed play.
There are more hands to play, and players can be much more aggressive, which leads to more enjoyable gameplay.
--
Recent Articles That Include The Term
6-Handed
:
Phil Hellmuth Leading WSOP POY Race
GGPoker WSOP 2020 Online Schedule Released
14 Online Gold Bracelet Events Added to World Series of Poker 2020 Schedule
17 More Events Announced For 2020 World Series of Poker
Bryn Kenney: Poker's Biggest Winner in 2019
Back to the -
Poker Dictionary