2017 Pokerstars Championship Continues To Hold The Record
Q: What Was The Longest Heads-Up Match in Poker Tournament History?
A: What was the longest heads-up match in poker tournament history?
There have been some exceptionally long heads-up matches in poker tournament history.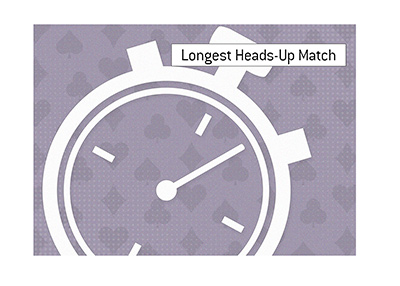 In 2018, John Cynn and Tony Miles battled for over ten hours to determine the winner of the 2018 World Series of Poker Main Event.
In the 2016 World Series of Poker main event, Qui Nguyen and Gordon Vayo would battle for over seven hours before Nguyen was declared the winner.
In the 2008 WSOP Main Event, John Juanda and Stanislav Alekhin would battle for over seven hours before Juanda finally took down the tournament.
These were all epic heads-up battles, though none can claim the title of longest ever in a poker tournament.
That distinction belongs to the epic battle between Elliot Smith and Tianyuan Tang at the 2017 Pokerstars Championship in Macau.
The two men played for
10 hours, 50 minutes
before Elliot Smith finally ended it.
The two funny parts of this heads-up match:
1. The two men negotiated a heads-up deal for an hour BEFORE the heads-up match started
2. The two men had chopped HK$2,577,500 and were playing for an additional HK$300,000
At the end of the day, the heads-up battle wasn't about the money - it was about the pride of being able to lift the trophy at the end of the night.
The longer the battle went, the less either man wanted to lose.
-
In order to have an epic heads-up match in a poker tournament, you need to have a structure that will cooperate.
In the cases of these epic heads-up matches, the blinds had usually stopped increasing, which meant that the tournament could run for hours and hours more.
Back to
Answers