Definition of Roll Up a Stake
What does the term "roll up a stake" mean in the world of poker? What is meant by "rolling up a stake"?
The term "roll up a stake" originated in the book "Of Mice and Men" and was popularized in the poker world thanks to the movie, "Rounders".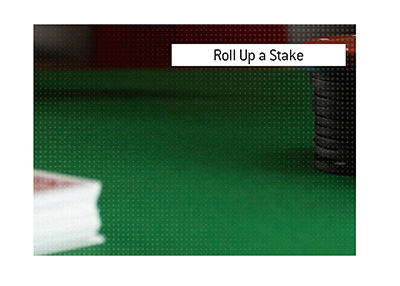 At the end of "Rounders", Mike McDermott (played by Matt Damon) says that he is going to "roll up a stake" and head to Las Vegas to play poker for a living, rather than pursue a degree in law. This comes after his dramatic showdown against "Teddy KGB" at the end of the movie.
"Rolling up a stake" means when you save money to pay for something.
In the case of the movie "Rounders", Mike was pooling together all of his money for a bankroll, so that he could play in Las Vegas on a full-time basis.
-
Most poker players dream of saving up enough money to play poker full-time.
In order to do this, players need to "roll up a stake" to play - meaning, they need to save up enough money for a proper bankroll that covers living expenses and enough money to play at the stakes that they want to play at.
--
Recent Articles That Include The Term
Roll Up a Stake
:
None.
Back to the -
Poker Dictionary