Who Will Tom Dwan Play Next In The "durrrr Challenge"?
Q: Is the First "durrrr Challenge" Between Tom Dwan and Patrik Antonius Over?
A: Is the first "durrrr Challenge" over?
It certainly appears that way, and it wouldn't surprise me to learn that Patrik Antonius has bought out of the bet at this point.
With just 11,026 of the 50,000 hands left to be played in the challenge, Tom "durrrr" Dwan is currently up $1,844,430.
This is as close to an insurmountable lead that somebody could have in this point of the challenge. In order to catch "durrrr", Antonius would need to average a profit of $167.28 PER HAND for the remaining 11,026 hands of the challenge. Considering that Dwan would most likely go into defensive mode over the last 10,000 hands, this would be a nearly impossible task for Antonius to complete.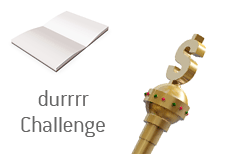 It has been over 2 1/2 months since Antonius and Dwan logged any additional hands in their challenge, which leads me to believe that Antonius has decided to shut it down and buy his way out.
In addition, Tom Dwan has recently been seen (online) talking about who could be up next in the "durrrr Challenge". Brian "sbrugby" Townsend and "jungleman12" have been mentioned as possible opponents, with Dwan even going so far as to say that he wouldn't mind finishing two more challenges by the time that the World Series of Poker Europe rolls around. If Dwan and Antonius had plans of finishing out their challenge, then I don't think that Dwan would be looking to solidify his next opponent(s).
I don't think that many people will complain if the first "durrrr Challenge" is over. The challenge moved at a snail's pace and quickly lost the interest of many in the online poker community. Dwan needs to play against somebody who is willing to sit in for very long sessions, which is why someone like "jungleman12" would be a perfect opponent.
Back to
Answers