A Look at the Poker Offerings in Pennsylvania
Q: Which Online Poker Rooms are Open in Pennsylvania?
A: On October 30th, 2017, Pennsylvania Governor Tom Wolf signed the state's online gambling bill into law.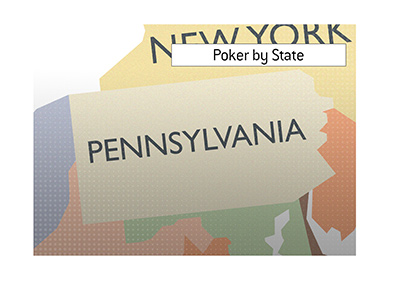 At the time, Pennsylvania became the fourth state to legalize online gambling in the United States, following the lead of Nevada, New Jersey and Delaware.
The application process for casinos to obtain online gambling licenses started in 2018.
There are seven casinos that currently have licenses to operate online poker rooms in Pennsylvania. They include Valley Forge, SugarHouse and Harrah's.
Instead of developing their own solutions in-house, a number of these casinos have elected to partner up with existing online poker rooms.
Mount Airy Casino, for instance, has a deal with Pokerstars. Valley Forge Casino and partypoker have teamed up, while Harrah's Casino and 888/WSOP.com also have a partnership in place.
-
Of the partnerships mentioned above, one - Mount Airy Casino/Pokerstars - is currently live and available to the residents (and visitors) of Pennsylvania.
Pokerstars PA, as it is called, is currently offering $30 in free play on a $20 deposit, as well as a 100% match deposit bonus of up to $600.
Pokerstars PA has already held a couple of major tournament series, including the PASCOOP (Pennsylvania Spring Championship of Online Poker) and the Pennsylvania Bounty Builder Series.
Online poker in Pennsylvania is ring-fenced, which means that liquidity is NOT shared with other states such as Nevada and New Jersey.
-
Keep an eye on this page to see when partypoker and 888/WSOP.com launch in the state.
As of this moment, however, Pokerstars PA is the only online poker offering in the great state of Pennsylvania.
Back to
Answers