The Best Way To Get a Poker Sponsorship
Q: How Do I Get a Poker Sponsorship?
A: During the "poker boom" days of Chris Moneymaker and Rounders, the fastest way to earn yourself a poker sponsorship from a site like Pokerstars was to go deep in the World Series of Poker main event.
It was simple - you'd make the final table of the main event and companies like Pokerstars and Full Tilt Poker would throw money at you so that you would be wearing their patch when the main event aired on ESPN. This is how players like Greg Raymer and Joe Hachem earned their sponsorship deals with Pokerstars.
Times have changed. Running deep in the World Series of Poker main event is no longer enough to win a sponsorship.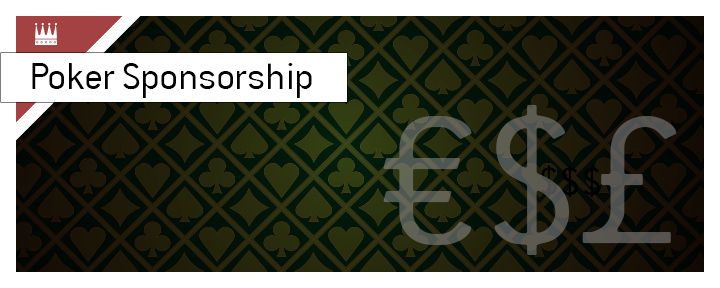 If you aren't a professional athlete or a live tournament player that absolutely kills it on the regular, you likely have only one other way to earn a sponsorship from a site like Pokerstars or partypoker or 888.
That method is quite simple.
Poker sites are looking for players that have followings, and the best way to build a following is to stream on Twitch.tv. This is how the likes of Jaime Staples, Parker Talbot, Matt Staples, Jeff Gross, Kevin Martin and others all earned their sponsorships. Depending on the following that you have, these sponsorships can be worth as much as $100,000+ per year.
The best way to earn a sponsorship in this day and age is to have a large following on Twitch.tv. If you can do that, the poker sites will likely come knocking, as they are all looking to Twitch.tv to draw new players to their sites.
In order to build a following, you will need to become a winning player. If you go deep in tournaments regularly, you will build up your followers and subscribers. If you can continue to post solid results for a couple of years, you should have strong numbers at that point, and you will likely find yourself on the radar of some major online poker rooms.
This is easier said than done however, as building up a following on Twitch.tv will require plenty of grinding and plenty of studying to become a better player. One of the most important things to remember is that you will have a very hard time building up a following if you aren't posting regular content. The people with the biggest followings on Twitch.tv are the ones who stream on a regular basis. If you aren't regularly streaming at least 3-4 times per week, you are going to have a hard time gaining traction.
That being said, there is no faster way to a sponsorship than through Twitch.tv in this day and age.
Back to
Answers