Where is "Bobby's Room"?
Q: What is "Bobby's Room"?
A: If you have ever watched a show like "High Stakes Poker" or "Poker After Dark", then you have likely heard the players talking about "Bobby's Room".
What is "Bobby's Room", and where is it located?
First off, "Bobby's Room" is located inside of the Bellagio in Las Vegas.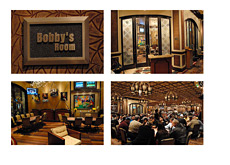 The room is named after Bobby Baldwin. Baldwin is the owner of four World Series of Poker bracelets, one of which came in the 1978 main event. Bobby Baldwin is also a feared cash game player who still plays regularly.
Baldwin, who is listed as Chief Design and Construction Officer for the MGM Mirage on Bellagio.com, wanted to build a sanctuary that would host the world's biggest cash games.
There are two tables inside of "Bobby's Room", as well as four TVs and overhead music. The room was designed in such a way to offer maximum privacy to its players, allowing them to concentrate on their games. Regular patrons of the Bellagio aren't just allowed to stroll into Bobby's Room and start interacting with the players - people are only allowed inside if they have a minimum buy-in of $20,000. There are guards stationed at the entrance to "Bobby's Room" any time there is a game under way, so you won't get very far if you try to walk in seeking an autograph.
There are, however, windows in which you can view the action. You can't see the cards, but you can certainly see who is seated in the games.
"Bobby's Room" plays host to the "Big Game". Generally speaking, the "Big Game" consists of an eight-game mix that includes Seven-card stud, Razz and variations of Hold'em and Omaha. However, alterations to the game will be made to accommodate certain players (for instance, if a rich businessman says that he will play if the game is changed to straight NLHE, then the game will very likely be changed in order to lure the "fish" into the game).
The regulars who play in "Bobby's Room" include the likes of Doyle Brunson, Phil Ivey, Eli Elezra and Barry Greenstein. Occasionally other random players (usually rich businessmen) will drop into the game as well, eager to gamble and do battle with some of the best players in the world.
When the World Series of Poker is taking place, the action inside of "Bobby's Room" really picks up. There are usually two tables going nearly 24/7 in "Bobby's Room" from late May to the end of July. In 2009, Doyle Brunson remarked that "I've never seen games where so much money is won and lost each night". Players such as Tom "durrrr" Dwan and Patrik Antonius practically live inside of "Bobby's Room" while the World Series of Poker is under way.
During the summer, the games of choice are usually a mix of Pot Limit Omaha and No Limit Hold'em in an effort to accommodate players such as Ilari "Ziigmund" Sahamies, Patrik Antonius and Tom "durrrr" Dwan.
According to multiple long-time regulars in the "Big Game", Phil Ivey and Chip Reese (RIP) are two of the biggest lifetime winners.
Photo:
Las Vegas Vegas
Back to
Answers