How Rich is Daniel Negreanu?
Q: What is Daniel Negreanu's Net Worth?
A: Daniel Negreanu is one of the most recognizable and likeable names in the poker world. Since the "poker boom" started in 2003, Negreanu has more or less kept his image squeaky clean, and he has been able to parlay this image into a lucrative sponsorship deal with Pokerstars.
The bulk of Negreanu's earnings and net worth come from two things - his sponsorship deal with Pokerstars and his poker earnings. Negreanu also has other ventures (including PokerVT.com), but it's safe to say that the majority of his money comes from his Pokerstars deal and the money that he earns on the tournament circuit.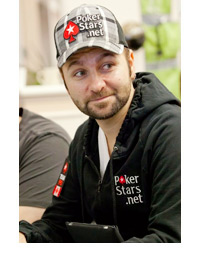 Pokerstars and Daniel Negreanu inked a sponsorship deal back in 2007, and the deal has been renewed at least once since then. At the time, Daniel Negreanu was a hot free agent who was also being pursued by Full Tilt Poker (Howard Lederer said that Negreanu and Doyle Brunson were the only two players that he was really interested in signing at the time). Luckily for Negreanu, he ended up with Pokerstars for what was certainly a big pile of money and other perks.
It's safe to say that Daniel Negreanu has the most lucrative poker sponsorship deal of any player in the world today. I have heard rumors that Negreanu is compensated between $2 million and $4 million per year by Pokerstars. Given his popularity and name recognition, I would not be surprised if the value of his deal was in the low to mid seven figures per year. Daniel Negreanu is the focal point of Pokerstars' marketing efforts, and there is no doubt that he is being compensated handsomely for it.
In addition to his Pokerstars deal, Negreanu also does very well for himself on the tournament circuit. Daniel Negreanu has total lifetime tournament earnings of over $18 million, and is currently in the midst of a three year string of years where he has cashed for at least a million dollars.
--
Daniel Negreanu used to be a regular in the "Big Game" in Las Vegas, but has seemingly pulled back on playing in cash games in recent years.
--
Given all of the information posted above, I would put Daniel Negreanu's net worth at around
$10 million
.
Back to
Answers