How Much is Viktor Blom Worth?
Q: What is Viktor Blom's Net Worth?
A: Viktor "Isildur1" Blom first made a name for himself in 2009, seemingly popping up out of nowhere to do battle against the likes of Phil Ivey, Tom "durrrr" Dwan and Patrik Antonius on Full Tilt Poker.
Blom saw immediate success when he stepped into Full Tilt Poker's biggest games, racking up a total profit of $6 million in just a few short weeks. Unfortunately for Blom, variance soon hit and he would end up dropping an astounding amount of money in just a few short days. The "Isildur1" phenomenon seemingly came to a dramatic end after he dropped $4 million to Brian Hastings over the course of a single session. "Isildur1" would temporarily disappear from Full Tilt Poker shortly after.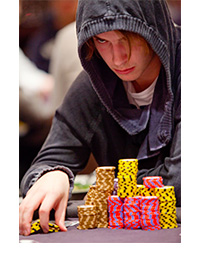 Sure, Blom made and lost millions of dollars on Full Tilt Poker over the course of just a few short months, but he was able to parlay his emotionally crippling rollercoaster ride into notoriety and a sponsorship deal with Pokerstars.
Shortly after Pokerstars purchased Full Tilt Poker, Blom became a member of Full Tilt Poker's "The Professionals" group of sponsored pros, which includes Tom "durrrr" Dwan, Gus Hansen and Blom.
--
In the past couple of years, Blom seems to have matured as a poker player and person.
Back in 2009, Blom would be content to put his entire bankroll up against some of the best players in the world.
In 2013, Blom will still seemingly take on all comers, but he seems to be able to walk away from games now, whereas in 2009, he would play until he was broke.
According to HighStakesDB.com, Blom is currently up nearly $3 million on Full Tilt Poker in 2013.
--
Blom has also taken down TWO million dollar plus prizes in tournament play over the past couple of years as well, and these have added to his bankroll.
In January of 2012, Blom took down the Super High Roller event at the Pokerstars Caribbean Adventure for $1,254,400.
In May of 2013, Blom took down the $10,300 buy-in SCOOP main event for just under $1.1 million.
--
Given his steady profits over the past year or so, and given his Full Tilt Poker sponsorship deal (which likely sees him paid in the high six figures per year), I would put Viktor Blom's net worth at approximately
$5 million
.
Back to
Answers