Decision Likely Coming in Late April/Early May
Q: Will The World Series of Poker Be Cancelled?
A: Thanks to the Coronavirus, the 2020 World Series of Poker in Las Vegas is in danger of being cancelled, postponed or changed to an online format.
Earlier today, President Trump announced that he is extending the nation's social distancing guidelines until April 30th, at the earliest.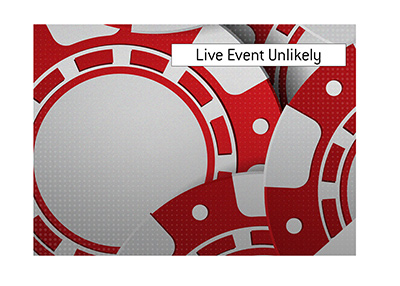 Casinos in Las Vegas are currently closed altogether due to the Coronavirus. Social distancing measures are currently in place throughout the country. Entire countries are in lockdown.
The World Series of Poker is supposed to get underway in late May. Given the current state of the world, a miracle would need to take place for the WSOP to get underway on time. With tens of thousands of players from all over the world usually attending the event, there is probably a less than 0.1% chance that the World Series of Poker takes place this year, at its traditional start time and in its traditional format.
-
Will the WSOP be cancelled altogether? Postponed? Something else?
A number of major live poker events (including WPT events, the Poker Masters Online and more) have been moved online in recent weeks, and I would expect the World Series of Poker to follow suit this year. I don't believe that we will see live WSOP events in 2020 - instead, I think that tournament organizers will put together some sort of online bracelet schedule (adding to the existing online events most likely) and play things out like that.
Moving the WSOP back a few months is a logistical nightmare - many thousands of people travel out to Las Vegas for the WSOP every summer, and pushing the event schedule back a few months would likely not work. In addition, lockdowns vary from country to country, and even if the United States opened back up completely by the end of May (extremely unlikely), many countries will likely not have followed suit. The last thing that WSOP organizers want is a poorly attended event, and I'm not sure how comfortable people would be playing in close quarters with others.
-
I think that the likeliest scenario is that the World Series of Poker holds an online bracelet series instead, and all of the live tournaments will be cancelled for 2020. This is just speculation and I have no inside sources on this matter.
I just don't see how tournament organizers could hold any live events anytime over the near future. After all, the major North American sports leagues are an underdog to restart before July 4th, so I'm not sure how the World Series of Poker could host their tournament series as scheduled.
-
We'll see what happens, but with all of the current turmoil taking place throughout the world, I wouldn't expect any live WSOP events in 2020. That scenario is most certainly a betting favorite as of this moment.
Back to
Answers