Tweet
How to Make Money Playing Poker Part 1: Poker Deposit Bonuses

Are you serious about making money playing poker?
If so, then you need to become aware of the different ways that you can increase your bankroll while playing poker.
The easiest way to make money playing poker is to take advantage of the bonuses that online poker rooms offer.
Online poker rooms offer matching bonuses to people who deposit real money for the first time on their sites. Usually the matching bonus is for an amount up to $500 or $600 - so, if you deposit $500+ initially on an online poker site, then you will normally qualify for the maximum bonus.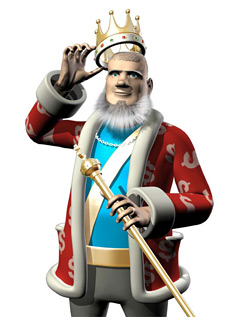 Bonuses are earned just by playing on the site - the more you play in real money games, the faster that you will earn your bonus.
Why do online poker sites offer bonuses? Simple. The online poker industry is extremely competitive, and large bonuses must be offered in order to attract new players. It's as simple as that. There is no "catch", aside from the fact that you must play in real money games on the site in order to "earn" your bonus.
The bottom line - if you are going to play poker on a site anyways, then you might as well be earning a bonus as you do so.
--
Now - there is nothing wrong with opening up accounts on multiple sites and taking advantage of multiple bonus offers.
Most people who have been playing online poker for a while have accumulated accounts on many different sites. The reason? To take advantage of multiple bonus offers.
There is nothing stopping you from leaving a site once you have earned your bonus money - any $ earned through a bonus offer is yours to keep. A site won't stop you from trying to leave if you withdraw your money after you have successfully completed a bonus offer. Obviously they would prefer it if you stayed, but there is nothing that they can do to stop you from leaving.
--
Here is a list of the things that you should be aware of when it comes to poker deposit bonuses:
1. You have a limited amount of time to earn as much of your bonus money as possible. Sites will usually give their new players 3-6 months to earn their initial deposit bonuses.
2. An unearned bonus money at the end of this period is forfeited.
3. Bonuses are "earned" by playing in real money cash games, SNGs and MTTs.
4. Bonuses are released in chunks. For instance, a site might release your bonus to you in increments of 10%. So, if you qualified for a bonus of $200, then you would receive your bonus in $20 chunks.
5. The size of your bonus depends on the size of your deposit. At most rooms, the size of your initial deposit will be matching with a bonus of an equal dollar figure, up to a maximum amount.
--
The biggest tip that I can give you is - maximize the size of your initial deposit to qualify for as much bonus money as you possibly can. Don't make the mistake of initially depositing a super small amount just to "test" the site, or else you will likely be locked into a very low bonus.