Boris Becker Poker Profile
The signing of Boris Becker by Pokerstars came as a shock to some.
However, if you know anything about the man, then you would know that Becker is driven by a fierce competitive streak that can not be quenched.
Becker, who has been involved in competitive endeavors for practically his entire life, needed to fill the void that was left when he abandoned his career as a professional tennis player in June of 1999.
Boris filled this void by getting involved in various business ventures (he owns a tennis racquet and clothing manufacturer company) and taking up the game of poker.
Boris Becker is a huge name in Europe, especially in countries such as Germany and Switzerland. He was an immensely successful tennis player during his 15 year career, winning multiple major titles and amassing over $25 million dollars in lifetime earnings. His affable nature and incredible talent helped him to build a loyal fanbase that still follows him today.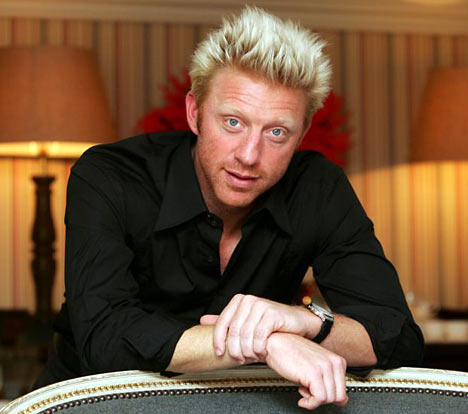 Enter Pokerstars.
One of Pokerstars' main marketing strategies is to sign people to sponsorship deals that have loyal followings in certain countries. The idea is that these fans will follow the sponsored players to the site, and open up accounts of their own.
Signing Boris Becker was a no-brainer for Pokerstars. He has a large following in a number of different countries that Pokerstars is aggressively marketing to, including Germany.
Becker is often seen playing in EPT (European Poker Tour) events.
He recently ventured "across the pond" and secured his best "live" tournament finish yet, a 40th place finish at the Five Star World Poker Classic for $40,855. His only other cash came in a 2008 preliminary event at the EPT Grand Final, when he managed to finish in 7th place in a 500 Euro buy-in event for $18,672.
Boris Becker was officially added to the Pokerstars team in November of 2007, when he agreed to sign on as a "Pokerstars Ambassador".
Boris Becker plays under the alias of "Boris Becker" on Pokerstars.
Here is a clip in which Boris Becker talks about why he loves the game of poker:
Click here to open an account at Pokerstars and play with Boris Becker.
Recent Poker King Articles That Mention
Boris Becker:
Massive GG WSOP Super Circuit Online Series Coming in May
Patrik Antonius, Gus Hansen, Bertrand Grospellier Turn Out For €111,111 High Roller for One Drop WSOPE Event
Partypoker Continues To Build a Buzz
Elior Sion Wins $50,000 Poker Player's Championship
15 Players Left in $50,000 Poker Player's Championship