Definition of 5Bet
What does the term "5bet" mean in the world of poker? What is the definition of the term "5bet"?
In poker, a "5bet" occurs when there are four raises after an initial bet.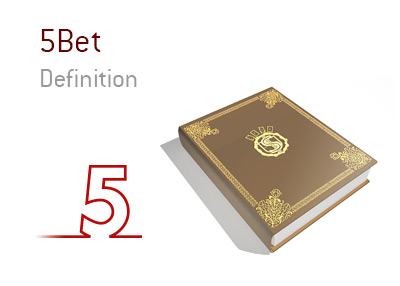 For instance, let's say that you are playing No Limit Hold'em at your local casino.
There is a raise in early position. This is the second bet.
There is a re-raise by a player on the button. This is a 3bet.
The small blind decides to put in a re-raise. There is a 4bet.
The big blind has a monster stack and pushes all-in, which would qualify as a 5bet.
5bets in No Limit Hold'em are relatively rare, as many times one of the players in the hand will be all-in before the 5bet can come.
5bets occur more often in uncapped Hold'em games.
--
Recent Articles That Include The Term
5Bet
:
None.
Back to the -
Poker Dictionary