Definition of 888 Poker Play With Friends
What is 888Poker's "play with friends" feature? What is the definition of "playing with friends" on 888Poker?
888Poker is one of two major online poker rooms (888Poker is the other) that allows people to easily set up private games for just themselves and their friends.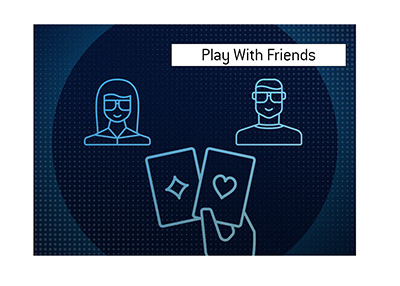 With 888Poker, you can easily set up a private game by clicking on the "Extra Games" tab and then "Play With Friends".
888Poker allows you to set up a password-protected cash game or tournament, and they allow you to structure the tournament anyway that you like. You can set the game of choice, the buy-in, the length of the levels and more.
On top of that, you can also set up a freeroll tournament if you like, where you provide the prize pool and the invited players don't pay anything to play. This feature can be handy with promotions.
-
Playing poker online is fun, though sometimes you will want to restrict your game to just friends.
888Poker makes this easy to do. Maybe you just want to play a cash game with your friends from high school, and you don't want people participating that you don't know.
Maybe you have set up a weekly poker tournament for the people at your workplace, and you have decided that it will be a $50 freeroll, and that you will supply the prize money.
888Poker makes all of this easy to set up, and you can be up and running in just minutes.
--
Recent Articles That Include The Term
888 Poker Play With Friends
:
None.
Back to the -
Poker Dictionary