Definition of APPT
Launched by PokerStars in 2007, the Asia Pacific Poker Tour (APPT) is a special poker series because it is the only large-scale poker tournament event like it in the entire region, and PokerStars broadcasts much of it for television.
PokerStars created the APPT to be a component of the annual World Poker Tour (WPT) as a counterpart to the European Poker Tour (EPT), the Latin America Poker Tour (LAPT), and the North American Poker Tour (NAPT).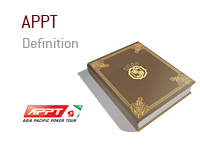 The APPT has had five seasons, and will be entering its sixth season in 2012. For the first season in 2007, the APPT comprised four events: Macau, China, Manila, Philippines, Seoul, South Korea and Sydney, Australia (Main Event).
For the second season in 2008, the APPT added a fifth event in Auckland, New Zealand.
In season three in 2009, there were four events: Auckland, Macau, Cebu, Philippines and Sydney.
In season four in 2010, PokerStars re-added Manila to return to five events.
For season five in 2011, the APPT streamlined the series to just two larger events: Melbourne, Australia and the Queenstown Snowfest in New Zealand. The APPT currently has no plans to re-expand the series.
The APPT will always have the distinction of being the first major sanctioned Texas Hold 'em tournament in both China and Korea. However, local participation was not high enough to warrant a continued presence for now.
--
Recent Articles That Include The Term
APPT
:
Aussie Millions To Return To Stand-Alone Event
Daniel Colman Looks To Go Back-To-Back in Seminole Hard Rock Poker Open Championship
Full Tilt Poker Inks Four Players To Sponsorship Deals
Phil Ivey Making Another Deep Tournament Run
Randy "Nanonoko" Lew Wins APPT Macau Main Event
Back to the -
Poker Dictionary