Definition of Board
The term board is a synonym for the poker table or the playing surface. It also has other meanings, all of which derive from that core definition.
In poker games that use community cards, such as Omaha and Texas Hold 'em, the term board refers to those shared cards: the flop, the turn and the river.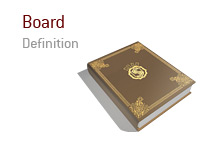 The term 'board card' is the antonym of hole card. A hole card is dealt face down, and privately held. A board card is dealt face up, and owned by every player who is active in the current hand.
Players also use the phrase 'on the board,' such as there were no spades on the board. In other words, the player needed a spade, and none of the shared cards was a spade.
'Playing the board' refers to using all five community cards, and neither hole card, to make a hand. Playing the board tends to happen when the board has a straight, a full house, two pair with a high-ranked kicker and so forth.
It's unusual for more one than one player at a time to play the board. A situation where this does occur is a full house on the board, with neither player possessing a pocket pair or being able to make a pair using one hole card.
--
Recent Articles That Include The Term
Board
:
Garrett Adelstein vs Robbi Jade Lew Hand Explodes Into Mainstream Media
Daniel Zack Wins 2022 World Series of Poker POY
Daniel Negreanu's Very Uncomfortable Week
WSOP To Launch in Michigan on Monday
Josh Arieh, Phil Hellmuth and Others Battling It Out For WSOP POY As Series Draws To Close
Back to the -
Poker Dictionary