Definition of Dirty Outs
When a player has an inferior hand, relative to the player's opponents, an out is a winning opportunity. In other words, an out is any potentially dealt card that improves the hand to the point that it is superior to the other hands.
A player does not always know if a potential card is an out. A dirty out is any potential card that may or may not provide an out. The opposite of this is a clean out, which is guaranteed, or at least highly certain, to provide an out.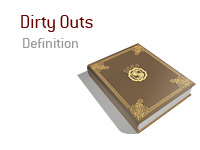 In any given poker hand, there can be a wide range of dirty outs. One dirty out may have near-certain odds while another is highly unlikely. From this perspective, the near-certain dirty out is labeled a clean out to differentiate it.
A player often needs to count outs in order to make a decision. The significance of dirty outs is that, depending on the situation, it may be wise to discard them. Often, a dirty out is as good as a non-out when it comes to a decision.
Counting outs is an integral part of calculating pot odds or implied odds, a key component of decision-making in poker. If a player factors in none, some or all dirty outs, that has a significant effect on the calculated odds.
One of the most common types of dirty outs is a card, based on knowledge of the board, that could improve the player's hand, but improve the opponent's hand even more. In this scenario, the player should disregard the out.
--
Recent Articles That Include The Term
Dirty Outs
:
None.
Back to the -
Poker Dictionary