Definition of EP
What does the term "EP" mean in the world of poker? What is the definition of the term "EP"?
In poker, "EP" refers to early position.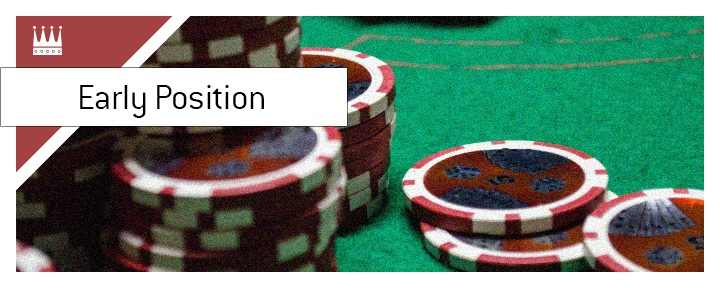 Let's say that you are playing in a nine-handed game of No Limit Hold'em at your local casino.
The term "early position" would refer to the first three players that act pre-flop.
So, the players would act in this order:
UTG (Under the Gun)
UTG+1
UTG+2
MP (Middle Position)
MP2
MP3
CO (Cutoff)
Button
SB (Small Blind)
BB (Big Blind)
So, "EP" or "early position" would refer to the Under the Gun, UTG+1 and UTG+2 players. You would say that these players are in early position.
Position is obviously a very important consideration when it comes to playing poker. A player that raises pre-flop in "early position" is likely going to have a much stronger hand than a player that raises in late position. With so many players left to act in the hand, a player raising in early position will need a much stronger holding compared to somebody that is on the button. The player on the button could easily be trying to steal the blinds, with the player in early position is much more likely to have a good hand.
--
Recent Articles That Include The Term
EP
:
Still Crushing: Phil Ivey Continues To Dominate
Scott Seiver Pulls Out of Phil Hellmuth Rematch; High Stakes Duel Looking For Replacement
WSOP Online 2022 Set To Begin on August 14th
Daniel Zack Wins 2022 World Series of Poker POY
Pokerstars: Banned Online Players Will Be Barred From Live Events
Back to the -
Poker Dictionary