Definition of EPT
Like the World Poker Tour (WPT), the European Poker Tour (EPT) is a series of high-profile poker tournaments.
In 2004, after having won the inaugural Poker Million tournament, professional poker player John Duthie created the EPT as a Eurocentric version of the WPT. The Main Event is Texas Hold 'em, but the series includes many variants.
The EPT has been highly successful. All events take place in Europe, and the EPT broadcasts the final table and other important aspects of the series in Europe and in other parts of the world, including Australia and North America.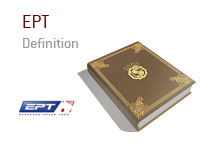 PokerStars, one of the most successful poker rooms online, has been a sponsor since the series' inception. Recently, it became a partial owner of the tour, and the align=right alt="Definition of EPT in online poker">official name of the EPT is now the PokerStars European Poker Tour.
During the first several years of the EPT, the buy-in was about half of the WPT buy-in. Recently, however, the EPT has become so popular that the buy-in rose to €8,000, which is approximately equal to the WPT buy-in of $10,000.
PokerStars EPT Grand Final Winners:
Season 1 - 2005 - Rob Hollink, Netherlands - €635,000
Season 2 - 2006 - Jeff Williams, USA - €900,000
Season 3 - 2007 - Gavin Griffin, USA - €1,825,010
Season 4 - 2008 - Glen Chorny, Canada - €2,020,000
Season 5 - 2009 - Pieter De Korver, Netherlands - €2,300,000
Season 6 - 2010 - Nicola Chouity, Lebanon - €1,700,000
Season 7 - 2011 - Ivan Freitez, Venezuela - €1,500,000
Counting all EPT events, the UK has the most winners with 13, followed by the US with 12 and Germany with 8.
--
Recent Articles That Include The Term
EPT
:
WSOP Online 2022 Set To Begin on August 14th
Jonathan Duhamel Wins Case Against Canadian Taxman
Phil Ivey Goes Wild at Triton Poker Cyprus, SHRS Europe
Michigan Joins Multi-State Internet Gaming Compact
WSOP To Launch in Michigan on Monday
Back to the -
Poker Dictionary