Definition of Muck
In poker terms, the word 'muck' has two meanings:
As a verb, muck means to fold a hand. So a player who has mucked his or her hand has folded. This usage developed because when a player folds, he or she discards in the direction of the muck, at least in theory.
As a noun, muck refers to the discards and other dead cards piled in front of the dealer.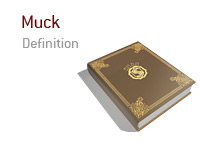 In most poker games, once a card is discarded or misdealt, it is out of play for the remainder of the hand. It is the dealer's responsibility to collect these "dead cards" and keep them face down in a muck on the playing table.
It is also the dealer's responsibility, to an extent, to protect the muck and to shield other cards from it. The reason for this is that a live card that touches the muck is, by rule, fouled, which means that it is no longer a valid card.
It is possible for a player to lose a hand he or she would otherwise win because it is fouled having touched the muck.
It is also the dealer's responsibility to ensure that cards in the muck stay there. This is why cards foul. The muck is a point of no return. Cards can also foul by dropping to the floor or being in a hand that has too few cards.
--
Recent Articles That Include The Term
Muck
:
Benjamin Heath Takes Early WSOP POY Lead After Victory in $50,000 High Roller Event
Viktor "Isildur1" Blom Wins partypoker LIVE MILLIONS Germany Main Event
Ryan Riess Wins 2013 World Series of Poker Main Event
Ilari "Ilari FIN" Sahamies Wins Record Cash Game Pot on Pokerstars
Poker King Year-End Awards for 2008
Back to the -
Poker Dictionary