Annie Duke Announces That She Has Left UB
Published on December 30th, 2010 3:44 pm EST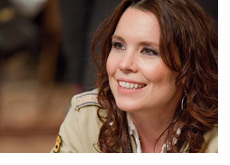 Annie Duke announced earlier today via Twitter (and then on her blog) that she was leaving UB after a long stay with the company.
Here is what Duke said via her Twitter account:
"Starting new chapter in my life. Decided to leave UB, but the futureís exciting for me and the place Iíve called home for more than a decade"
And then, a short time later, Duke elaborated on her departure from UB via her blog in a post titled "Moving On":
"Itís bittersweet, but Iíve decided to leave UB.
I have nothing but positive things to say about UB and my experiences with the brand, management team, and dedicated employees who work hard every day to deliver a terrific online poker experience for players like you.
Iíve sincerely enjoyed wearing the UB patch, but itís time for me to move on.
So why am I leaving UB? In a nutshell, professional and personal growth.
Iím going to explore and pursue other business opportunities on a full-time basis. And, while I will no longer be a part of UB, I will remain a part of the online and offline poker community and am confident that we will continue to cross paths playing this amazing game that we all love.
See you at the tables Ė always,
Annie"
--
Annie Duke and Phil Hellmuth have been the two faces of Ultimatebet (UB) for a number of years. Both players elected to stand by the poker room through its darkest days (super-user scandal).
It's not known at this time if Duke will sign a sponsorship deal with another poker room. Full Tilt Poker seems like a logical landing spot considering that her brother, Howard Lederer, is one of the key figures at the company.
There have been rumblings that Phil Hellmuth might be leaving UB as well, but those are just unsubstantiated rumors at this time.
Source:
Annie Duke's Twitter Account
Source: Annieduke.com -
"Moving On"
Photo: GreasieWheels.com
--
Filed Under:
Online Poker Rooms