Phil Hellmuth and Annie Duke Part Ways with UB.com
Published on December 30th, 2010 6:52 pm EST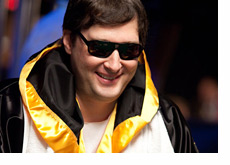 Earlier today, Annie Duke announced via her Twitter account that she was leaving UB.
A few hours later, UB.com announced that "UB.com and Phil Hellmuth have mutually parted ways".
Here is the full release from UB.com:
"Phil Hellmuth Parting Ways With UB.com
The poker pro who is famous for his grand WSOP entrances is making one final exit.
Today we are announcing that UB.com and Phil Hellmuth have mutually parted ways. It has been great working with Phil over the last decade and we know we're with the rest of the poker world when we say that we look forward to Phil's next move on the world poker circuit.
While Hellmuth is no doubt an instantly recognizable poker personality, Team UB will continue to be stacked with young, aggressive poker professionals who today's passionate online poker players can really identify with.
In fact, in early 2011, we'll announce some big additions to Team UB. Stay tuned for more on that.
Until then, Happy Holidays."
Phil Hellmuth hasn't yet commented on his split with UB, but he did say on his Twitter account that "BIG NEWS" was coming in one hour.
Phil Hellmuth and Annie Duke have been the two faces of UB (Ultimatebet) for many years now. This shake-up leaves Joe Sebok as arguably the most recognizable name on the UB.com roster of pros.
It will be interesting to see where Hellmuth and Duke end up. Given that Howard Lederer is her brother, it seems almost a certainty that Annie Duke will end up signing a sponsorship deal with Full Tilt Poker.
Phil Hellmuth is a different story. Say what you want about him, but Phil Hellmuth is one of the biggest names in the poker world, and I'm sure that both FTP and
Pokerstars
would love to add him to their rosters. I would expect Phil Hellmuth to find a new home very early in the New Year, if he hasn't already signed a deal.
A big day in the online poker world, as both Annie Duke and Phil Hellmuth are out at UB.com.
Photo: GreasyWheels.com
--
Filed Under:
Online Poker Rooms