Prahlad Friedman Officially Joins UB.com As Newest "Team UB" Pro
Published on January 6th, 2011 6:40 pm EST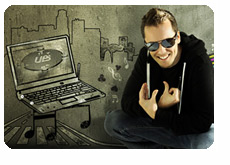 After weeks of speculation, it's official - Prahlad Friedman has officially been named as the newest member of Team UB.
In a post on their official blog titled "Prahlad Friedman Joins UB.com as Newest Team Pro", UB.com welcomed the "rapping, multi-million dollar winning online poker champion" to their team.
According to the blog posting, Friedman is "confirmed to play in the UBOC $1 Million Championship Main Event".
--
Friedman's surprising deal with UB.com became public knowledge on the same day that Annie Duke and Phil Hellmuth severed their ties with the company. On the day that Duke and Hellmuth officially left UB.com, Duke's bio was erased and temporarily replaced an image of Prahlad Friedman's name. The image was quickly removed, but the cat had already been let out of the bag. Prahlad Friedman was going to UB.
Friedman's signing with UB sparked a fierce online debate. Daniel Negreanu was particularly outspoken against Friedman and his decision to sign with UB, saying that he was "disappointed" with Friedman for "signing with the devil who stole millions from him".
Prahlad Friedman was one of the biggest victims of the UB "superuser" scandal, reportedly losing millions of dollars in the high stakes cash games on the site. Friedman received one of the largest refunds after the scandal came to light, but it was largely assumed that he would never play there again, let alone endorse the company.
But, according to Friedman, this is the "new" UB, and the "new" UB is cool with Prahlad:
--
It's going to be very strange to see Prahlad Friedman wearing a UB patch in live events.
According to
Friedman's Twitter feed
:
"Many of you have tough and fair questions. I understand and you'll get many answers in the coming interviews I'm doin. Peace."
--
One thing is for sure - this is a very big signing for UB.
Source: UB.com -
Prahlad Friedman Joins UB.com As Newest Team UB Pro
--
Filed Under:
Online Poker Rooms