"Federated Poker League" Aims to Become "The PGA of Poker"
Published on January 18th, 2011 2:16 am EST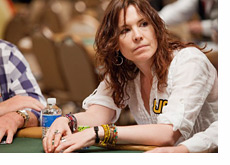 It was revealed earlier today that Annie Duke and Jeffrey Pollack have teamed up to launch the "Federated Poker League", which aims to become the "PGA of Poker".
The "Federated Poker League" will not be open to just anyone. Instead, according to the Associated Press article that I have linked to below, the league will hand out 200 invitations "based on a mathematical formula measuring finishes in major events, money earned and recent success". The article goes on to say that success in online poker or cash games won't be measured.
According to Jeffrey Pollack, the former World Series of Poker commissioner who will now serve as the chairman of the newly created Federated Poker League, "membership in our league will signify standing as a true professional in poker".
Annie Duke, who will serve as the league's commissioner, said that "most league memberships will have two-, three-, or five-year terms, with fewer than 10 lifetime cards being granted to living players who have had unparalleled success in poker". You can safely expect that names such as Doyle Brunson,
Phil Ivey
and Phil Hellmuth will all receive "lifetime cards". Given the fact that he is the all-time tournament cash leader,
Daniel Negreanu
should receive a lifetime card as well, but given his history with Annie Duke, who knows.
The league is reportedly planning four televised regular-season events as well as a $1 million freeroll at the Palms Casino Resort in Las Vegas.
Along with Annie Duke and Jeffrey Pollack, the founders of Youbet.com are also counted as partners in this new venture.
--
Will the newly-created "Federated Poker League" succeed over the long-run, or will it flame out as some other poker leagues have done in the past? Do people really want to see a league that is filled with mostly seasoned veterans? I always thought that most viewers enjoyed the dynamic created when "grizzled veterans" took on younger players who have made their names online..
Source: ESPN.com -
Annie Duke to Lead Poker League
Photo: GreasieWheels.com
--
Filed Under:
Other Poker News