Greg "Fossilman" Raymer" No Longer a Member of "Team Pokerstars Pro"
Published on January 31st, 2011 5:57 pm EST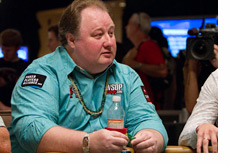 In a pretty surprising development, Greg "Fossilman" Raymer is no longer a member of "Team Pokerstars Pro". Raymer's image has been removed from the "Team Pokerstars Pro" page, and his bio has been removed from both Pokerstars.com and Pokerstars.net as well.
It appears as though Raymer no longer has any sort of official sponsorship deal with Pokerstars, though he continues to play on the site.
So what happened?
Kathy Liebert offered this through
her official Twitter account
earlier today:
"I heard that Pokerstars was cutting many of their team pros compensation. Take it or leave it. Raymer left it"
"I think it's a bad business decision to cut their pay but most won't have a better offer so they stay. #notverified"
Now we obviously don't know if this is the real reason that Raymer left, but Liebert is certainly a good source.
--
Greg "Fossilman" Raymer
has been closely associated with Pokerstars ever since he took down the World Series of Poker main event in 2004. Raymer is intelligent, well-spoken and well-respected, which is what makes his departure from Pokerstars even more surprising.
It will be interesting to see if any other members of "Team Pokerstars Pro" are going to be heading out the door as well.
Photo: GreasieWheels.com
--
Filed Under:
Online Poker Rooms