Ashton Griffin Wins Insane Endurance Running Prop Bet
Published on February 6th, 2011 3:12 am EST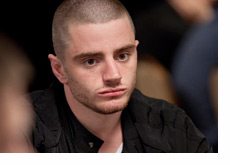 According to Justin "BoostedJ" Smith, Ashton "theASHMAN103" Griffin successfully completed an insane prop bet earlier today to win $300k.
The terms of the bet?
If Ashton Griffin could run 70 miles on a treadmill in 24 hours, then he and the people on his side of the bet would win $300,000. Any walking that took place over the course of the 24 hours wouldn't count towards the 70 mile total.
If Griffin couldn't run the equivalent of nearly 3 marathons in 24 hours, then his side would be out $900,000.
According to Justin Smith's Twitter feed, Griffin was able to complete the feat with just 45 minutes to spare. Haseeb Qureshi was reportedly the person who was betting against Griffin.
Griffin managed to win the epic prop bet despite having very little sleep the night before. In addition, Griffin didn't take any time to prepare himself mentally or physically for the challenge - he started the day after the terms of the bet had been agreed to.
Ashton "
theASHMAN103
" Griffin is a college level wrestler, so he is obviously in very good shape. He managed to parlay his excellent conditioning into yet another prop bet win, this time at the expense of Haseeb Qureshi.
Photo: GreasyWheels.com
Source:
Justin "BoostedJ" Smith Twitter Feed
--
Filed Under:
Other Poker News