FTOPS XIX Set To Wrap Up This Weekend
Published on February 18th, 2011 9:27 pm EST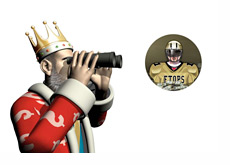 Itís going to be a busy couple of days on Full Tilt Poker this weekend as FTOPS XIX comes to a close.
Of the 45 events that comprised the 19th installment of the FTOPS, six are scheduled to take place this Saturday and Sunday.
Included in these six events is the FTOPS main event, which is set to get underway at 17:00 ET on Sunday afternoon. The main event, which will be hosted by "Team Full Tilt" member Erick Lindgren, will have a total guarantee of $3 million.
Full Tilt Poker
recently unveiled their new "multi-entry" tournament format which allows people to purchase multiple entries to the same tournament. Full Tilt has allowed multiple entries for a number of FTOPS XIX events, which has ended up resulting in some massively inflated prize pools. The FTOPS XIX main event will also be a multi-entry tournament, with players having the opportunity to buy in up to six times.
In short, this means that the total prize pool for the main event will likely end up closing north of $4 million.
--
In addition to the main event, the two-day $2000+$100 NLHE event ($2 million in guaranteed prize money) is also scheduled to take place this weekend.
The event, which gets underway at 14:00 ET on Saturday afternoon, always attracts many of the top poker players in the world. You can expect many members of Full Tilt Pokerís roster of sponsored pros to turn out for this event.
--
Here is the full FTOPS XIX schedule for Saturday and Sunday:
#40 - $2,000+100 NLHE 2-Day Event ($2 Million Guaranteed)
Saturday, February 19th, 14:00 ET
#41 - $100+$9 NLHE Rush Rebuy ($600,000 Guaranteed)
Saturday, February 19th, 16:00 ET
#42 - $500+$35 NLHE Heads Up ($400,000 Guaranteed)
Saturday, February 19th, 17:00 ET
#43 - $200+$16 Badugi ($50,000 Guaranteed)
Saturday, February 19th, 21:00 ET
#44 - $240+$16 NLHE 6-Max Knockout ($1 Million Guaranteed)
Sunday, February 20th, 14:00 ET
Main Event - $600+$40 NLHE Multi-Entry ($3 Million Guaranteed)
Sunday, February 20th, 17:00 ET
--
Filed Under:
Online Poker Rooms