Massive Prize Pool For FTOPS XIX Main Event
Published on February 20th, 2011 8:03 pm EST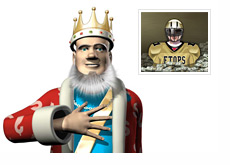 Late registration in the FTOPS XIX main event has just closed, and the final entrant/prize pool numbers are incredible.
14,479 total entries were purchased for the FTOPS XIX main event, which ended up creating a total prize pool of $8,687,400. The main event used the "multi-entry" format which allowed players to buy in up to six times, which many players took full advantage of. This resulted in the largest-ever prize pool for a Full Tilt Poker tournament and one of the largest-ever prize pools for an online poker tournament.
Many people were expecting the prize pool for the FTOPS main event to easily cruise past the $3 million guarantee thanks to the "multi-entry" format, but I donít think that many people were expecting quite this many entries.
The nearly $8.7 million prize pool means that the eventual winner of the FTOPS XIX main event will walk away with $1,326,044.74, while the runner-up will take home nearly $900k. The FTOPS main event is not a two-day event (unlike the WCOOP main event), which means that the winner will likely be crowned late Monday morning.
--
The "multi-entry" format has proven to be very lucrative for Full Tilt Poker, and the FTOPS main event was no different.
Full Tilt collected $40 for each and every entry in the FTOPS XIX main event, meaning that they banked nearly $580k for just one tournament (and this doesnít include any money that was generated from main event satellites). Many people donít seem to like the "multi-entry" format, but it has certainly proven to be very profitable for Full Tilt Poker so far.
--
Even
Phil Ivey
, who has publicly stated that he doesnít enjoy playing on too many tables at once, has gotten in on the fun, as he ended up purchasing a total of four entries to the main event.
--
Filed Under:
Online Poker Rooms