2011 SCOOP Will Get Underway on May 8th
Published on March 9th, 2011 8:51 pm EST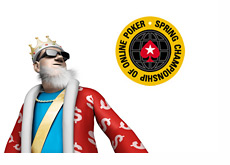 Pokerstars released the schedule for the 2011 SCOOP (Spring Championship of Online Poker) earlier today.
The tournament series will officially get underway on Sunday, May 8th, and will run until Monday, May 23rd.
Satellites for the 2011 SCOOP are scheduled to begin on March 14th.
The 2011 Spring Championship of Online Poker will have a total of $45 million in guaranteed prize money. The 2010 SCOOP finished with more than $63 million in prize money, so you can safely assume that this year's event will go well over the $45 million mark.
For each "event" there will be three tournaments - a Low, Medium and High buy-in version. For instance, Event #1 (NL Hold'em 6-Max) will have three separate tournaments - one with a $22 buy-in, one with a $215 buy-in and one with a $2,100 buy-in.
Here is the schedule for the 2011 Spring Championship of Online Poker, courtesy of
Pokerstarsblog.com
:
Sunday, 8 May 2011
13:00 ET, Ev 01-L*: $22 NL Hold'em [6-Max], $300,000 Guaranteed
13:00 ET, Ev 01-M*: $215 NL Hold'em [6-Max], $750,000 Guaranteed
13:00 ET, Ev 01-H*: $2,100 NL Hold'em [6-Max], $1,000,000 Guaranteed
17:00 ET, Ev 02-L*: $22 NL Hold'em, $300,000 Guaranteed
17:00 ET, Ev 02-M*: $215 NL Hold'em, $1,500,000 Guaranteed
17:00 ET, Ev 02-H*: $2,100 NL Hold'em, $1,500,000 Guaranteed
Monday, 9 May 2011
14:00 ET, Ev 03-L*: $5.50+R NL Hold'em (6-Max), $250,000 Guaranteed
14:00 ET, Ev 03-M*: $55+R NL Hold'em (6-Max), $500,000 Guaranteed
14:00 ET, Ev 03-H*: $530+R NL Hold'em (6-Max), $750,000 Guaranteed
17:00 ET, Ev 04-L: $16.50 FL Badugi, $25,000 Guaranteed
17:00 ET, Ev 04-M: $162 FL Badugi, $25,000 Guaranteed
17:00 ET, Ev 04-H: $1,575 FL Badugi, $50,000 Guaranteed
20:00 ET, Ev 05-L: $11 PL Omaha (Turbo, 1R1A), $75,000 Guaranteed
20:00 ET, Ev 05-M: $109 PL Omaha (Turbo, 1R1A), $200,000 Guaranteed
20:00 ET, Ev 05-H: $1,050 PL Omaha (Turbo, 1R1A), $350,000 Guaranteed
Tuesday, 10 May 2011
14:00 ET, Ev 06-L: $11 PL 5-Card Draw, $25,000 Guaranteed
14:00 ET, Ev 06-M: $109 PL 5-Card Draw, $50,000 Guaranteed
14:00 ET, Ev 06-H: $1,050 PL 5-Card Draw, $75,000 Guaranteed
17:00 ET, Ev 07-L: $16.50 NL Hold'em (Heads-Up Match Play), $100,000 Guaranteed
17:00 ET, Ev 07-M: $162 NL Hold'em (Heads-Up Match Play), $200,000 Guaranteed
17:00 ET, Ev 07-H: $1,575 NL Hold'em (Heads-Up Match Play), $400,000 Guaranteed
20:00 ET, Ev 08-L*: $11 NL Hold'em, $100,000 Guaranteed
20:00 ET, Ev 08-M*: $109 NL Hold'em, $300,000 Guaranteed
20:00 ET, Ev 08-H*: $1,050 NL Hold'em, $600,000 Guaranteed
Wednesday, 11 May 2011
14:00 ET, Ev 09-L: $22 Mixed Hold'em (6-Max), $75,000 Guaranteed
14:00 ET, Ev 09-M: $215 Mixed Hold'em (6-Max), $150,000 Guaranteed
14:00 ET, Ev 09-H: $2,100 Mixed Hold'em (6-Max), $250,000 Guaranteed
17:00 ET, Ev 10-L: $33 7-Card Stud High, $25,000 Guaranteed
17:00 ET, Ev 10-M: $320 7-Card Stud High, $50,000 Guaranteed
17:00 ET, Ev 10-H: $3,150 7-Card Stud High, $100,000 Guaranteed
Thursday, 12 May 2011
14:00 ET, Ev 11-L: $22 PL Omaha (Heads-Up Match Play), $50,000 Guaranteed
14:00 ET, Ev 11-M: $215 PL Omaha (Heads-Up Match Play), $100,000 Guaranteed
14:00 ET, Ev 11-H: $2,100 PL Omaha (Heads-Up Match Play), $200,000 Guaranteed
17:00 ET, Ev 12-L*: $27 NL Hold'em (Knockout), $200,000 Guaranteed
17:00 ET, Ev 12-M*: $265 NL Hold'em (Knockout), $400,000 Guaranteed
17:00 ET, Ev 12-H*: $2,600 NL Hold'em (Knockout), $600,000 Guaranteed
Friday, 13 May 2011
14:00 ET, Ev 13-L*: $16.50 NL Hold'em (Ante Up), $100,000 Guaranteed
14:00 ET, Ev 13-M*: $162 NL Hold'em (Ante Up), $200,000 Guaranteed
14:00 ET, Ev 13-H*: $1,575 NL Hold'em (Ante Up), $300,000 Guaranteed
17:00 ET, Ev 14-L: $55 FL Omaha Hi/Lo, $75,000 Guaranteed
17:00 ET, Ev 14-M: $530 FL Omaha Hi/Lo, $125,000 Guaranteed
17:00 ET, Ev 14-H: $5,200 FL Omaha Hi/Lo, $225,000 Guaranteed
20:00 ET, Ev 15-L: $16.50 NL Hold'em (2X Chance, Turbo), $150,000 Guaranteed
20:00 ET, Ev 15-M: $162 NL Hold'em (2X Chance, Turbo), $400,000 Guaranteed
20:00 ET, Ev 15-H: $1,575 NL Hold'em (2X Chance, Turbo), $750,000 Guaranteed
Saturday, 14 May 2011
14:00 ET, Ev 16-L: $22 NL Hold'em - Quadruple Shootout (10-Max), $125,000 Guaranteed
14:00 ET, Ev 16-M: $215 NL Hold'em - Triple Shootout (10-Max), $150,000 Guaranteed
14:00 ET, Ev 16-H: $2,100 NL Hold'em - Double Shootout (10-Max), $150,000 Guaranteed
17:00 ET, Ev 17-L: $16.50+R PL Omaha (6-Max), $100,000 Guaranteed
17:00 ET, Ev 17-M: $162+R PL Omaha (6-Max), $250,000 Guaranteed
17:00 ET, Ev 17-H: $1,575+R PL Omaha (6-Max), $400,000 Guaranteed
20:00 ET, Ev 18-L: $22 Triple Stud (Turbo), $25,000 Guaranteed
20:00 ET, Ev 18-M: $215 Triple Stud (Turbo), $50,000 Guaranteed
20:00 ET, Ev 18-H: $2,100 Triple Stud (Turbo), $75,000 Guaranteed
Sunday, 15 May 2011
13:00 ET, Ev 19-L*: $22 NL Hold'em, $300,000 Guaranteed
13:00 ET, Ev 19-M*: $215 NL Hold'em, $1,000,000 Guaranteed
13:00 ET, Ev 19-H*: $2,100 NL Hold'em, $1,000,000 Guaranteed
17:00 ET, Ev 20-L*: $22 NL Hold'em, $350,000 Guaranteed
17:00 ET, Ev 20-M*: $215 NL Hold'em, $2,000,000 Guaranteed
17:00 ET, Ev 20-H*: $2,100 NL Hold'em, $2,000,000 Guaranteed
Monday, 16 May 2011
14:00 ET, Ev 21-L: $16.50 NL Hold'em / PL Omaha, $75,000 Guaranteed
14:00 ET, Ev 21-M: $162 NL Hold'em / PL Omaha, $150,000 Guaranteed
14:00 ET, Ev 21-H: $1,575 NL Hold'em / PL Omaha, $300,000 Guaranteed
17:00 ET, Ev 22-L: $33 NL Hold'em (4-Max), $100,000 Guaranteed
17:00 ET, Ev 22-M: $320 NL Hold'em (4-Max), $300,000 Guaranteed
17:00 ET, Ev 22-H: $3,150 NL Hold'em (4-Max), $500,000 Guaranteed
20:00 ET, Ev 23-L: $11+R NL Hold'em (Turbo), $250,000 Guaranteed
20:00 ET, Ev 23-M: $109+R NL Hold'em (Turbo), $500,000 Guaranteed
20:00 ET, Ev 23-H: $1,050+R NL Hold'em (Turbo), $1,000,000 Guaranteed
Tuesday, 17 May 2011
14:00 ET, Ev 24-L: $11 Triple Draw 2-7, $25,000 Guaranteed
14:00 ET, Ev 24-M: $109 Triple Draw 2-7, $50,000 Guaranteed
14:00 ET, Ev 24-H: $1,050 Triple Draw 2-7, $75,000 Guaranteed
17:00 ET, Ev 25-L: $22 7-Card Stud Hi/Lo, $25,000 Guaranteed
17:00 ET, Ev 25-M: $215 7-Card Stud Hi/Lo, $75,000 Guaranteed
17:00 ET, Ev 25-H: $2,100 7-Card Stud Hi/Lo, $150,000 Guaranteed
20:00 ET, Ev 26-L*: $11 NL Hold'em, $100,000 Guaranteed
20:00 ET, Ev 26-M*: $109 NL Hold'em, $300,000 Guaranteed
20:00 ET, Ev 26-H*: $1,050 NL Hold'em, $600,000 Guaranteed
Wednesday, 18 May 2011
14:00 ET, Ev 27-L: $22 Razz, $25,000 Guaranteed
14:00 ET, Ev 27-M: $215 Razz, $75,000 Guaranteed
14:00 ET, Ev 27-H: $2,100 Razz, $150,000 Guaranteed
17:00 ET, Ev 28-L*: $11+R NL Hold'em (Big Antes), $200,000 Guaranteed
17:00 ET, Ev 28-M*: $109+R NL Hold'em (Big Antes), $400,000 Guaranteed
17:00 ET, Ev 28-H*: $1,050+R NL Hold'em (Big Antes), $600,000 Guaranteed
Thursday, 19 May 2011
14:00 ET, Ev 29-L: $33 8-Game, $50,000 Guaranteed
14:00 ET, Ev 29-M: $320 8-Game, $100,000 Guaranteed
14:00 ET, Ev 29-H: $3,150 8-Game, $250,000 Guaranteed
17:00 ET, Ev 30-L: $11 PL Omaha Hi/Lo, $50,000 Guaranteed
17:00 ET, Ev 30-M: $109 PL Omaha Hi/Lo, $125,000 Guaranteed
17:00 ET, Ev 30-H*: $1,050 PL Omaha Hi/Lo, $250,000 Guaranteed
Friday, 20 May 2011
14:00 ET, Ev 31-L: $22 NL Hold'em (1R1A), $300,000 Guaranteed
14:00 ET, Ev 31-M: $215 NL Hold'em (1R1A), $500,000 Guaranteed
14:00 ET, Ev 31-H: $2,100 NL Hold'em (1R1A), $800,000 Guaranteed
17:00 ET, Ev 32-L: $55 FL Hold'em (6-Max), $75,000 Guaranteed
17:00 ET, Ev 32-M: $530 FL Hold'em (6-Max), $150,000 Guaranteed
17:00 ET, Ev 32-H: $5,200 FL Hold'em (6-Max), $250,000 Guaranteed
20:00 ET, Ev 33-L: $22 NL Omaha Hi/Lo (Turbo), $50,000 Guaranteed
20:00 ET, Ev 33-M: $215 NL Omaha Hi/Lo (Turbo), $100,000 Guaranteed
20:00 ET, Ev 33-H: $2,100 NL Omaha Hi/Lo (Turbo), $150,000 Guaranteed
Saturday, 21 May 2011
14:00 ET, Ev 34-L: $55 PL Omaha [6-Max], $100,000 Guaranteed
14:00 ET, Ev 34-M: $530 PL Omaha [6-Max], $300,000 Guaranteed
14:00 ET, Ev 34-H: $5,200 PL Omaha [6-Max], $500,000 Guaranteed
15:30 ET, Ev 35-L*: $270 NL Hold'em [Heads-Up Match Play], $300,000 Guaranteed
15:30 ET, Ev 35-M*: $2,600 NL Hold'em [Heads-Up Match Play], $450,000 Guaranteed
15:30 ET, Ev 35-H*: $25,500 NL Hold'em [Heads-Up Match Play], $600,000 Guaranteed
17:00 ET, Ev 36-L: $22 HORSE, $50,000 Guaranteed
17:00 ET, Ev 36-M: $215 HORSE, $100,000 Guaranteed
17:00 ET, Ev 36-H: $2,100 HORSE, $150,000 Guaranteed
Sunday, 22 May 2011
13:00 ET, Ev 37-L*: $22 NL Hold'em (6-Max), $300,000 Guaranteed
13:00 ET, Ev 37-M*: $215 NL Hold'em (6-Max), $1,000,000 Guaranteed
13:00 ET, Ev 37-H*: $2,100 NL Hold'em (6-Max), $1,000,000 Guaranteed
17:00 ET, Ev 38-L*: $109 NLHE Main Event - L, $1,000,000 Guaranteed
17:00 ET, Ev 38-M*: $1,050 NLHE Main Event - M, $3,000,000 Guaranteed
17:00 ET, Ev 38-H*: $10,300 NLHE Main Event - H, $5,000,000 Guaranteed
* - 2-Day Event
--
Filed Under:
Online Poker Rooms