Liebert vs Lederer, Friedman vs Haxton/Bonomo and Sheikhan vs the World
Published on March 14th, 2011 12:45 am EST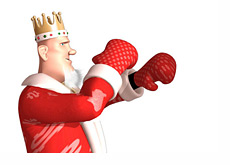 Fights are breaking out all over the poker world right now. Twitter fights. Fist fights. All kinds of fights.
The brawling started a few days ago when Kathy Liebert had some choice things to say about Howard Lederer. During a "Live at the Bike" webcast, Liebert was overheard saying that Lederer was a previously busted poker player who was saved by the success of Full Tilt Poker.
Liebert continued her tirade against Lederer on Twitter, calling him "unfriendly", "pompous", "arrogant" and a "nit".
Howard Lederer hasn't responded to the outspoken Liebert.
--
A few days later, another skirmish broke out, this time between Prahlad Friedman and Isaac Haxton/Justin Bonomo.
Friedman made this accusation against Haxton and Bonomo
via his Twitter account
:
"Isaac Haxton and Justin Bonomo share and switch accounts often. Was playing random guy and looked up his stats. Identical to Hax."
"Haxton knows I don't want to play him head up. So scummy."
"They have been doing this to me for years. No more."
"Playing Zeejustin was easy at first on fulltilt then there was a dramatic style change and he beat me for a lot. That was Haxton beating me."
"I give credit to Haxton for being a great player, but I don't want to play him head up. He knows this. Yet he finds ways to play me."
Friedman then accused Haxton of being the player behind the "xxtrmsk8rx" account on Cereus. Friedman claims that Haxton knew that Prahlad didn't want to play him heads up, yet Haxton "hid" behind the "xxtrmsk8rx" account on Cereus and played him anyways.
Justin "Zeejustin" Bonomo
responded to Friedman's allegations in a 2+2 thread
.
--
As if all of these online battles weren't enough, Todd Brunson reported on his Twitter account that Shawn Sheikhan (Brunson calls him "Sheepy") has been involved in three altercations at the Aria in the past week. From
Brunson's Twitter account
:
"Wow. Another fight at the aria.. Sheepy and viffer. Security came and the threats were flying.. Yet another card player article" (March 8th)
"And yet another fight.. This time Sheepy and every player at the table. I finally had him thrown out like the little bitch he is" (March 11th)
"I knew it was too good to be true. Sheepy showed up... Estimated time til blow up?????" .. "Sheepy already thrown out. He didn't make it 20 minutes" .. "He got in a fist fight with John monet. Well kinda. I called security first" (March 12th)
Shawn Sheikhan is clearly as popular as ever..
--
"Can't we all just get along?"
--
Filed Under:
Other Poker News