Full Tilt Poker Announces Partnership with Owners of UFC, Station Casino
Published on March 30th, 2011 10:29 pm EST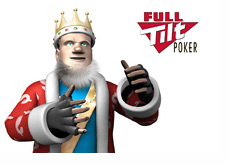 The Wall Street Journal revealed earlier tonight that Full Tilt Poker has entered into a partnership with Fertitta Interactive, which is "an entity set up by Station Casino Inc. owners and managers Frank and Lorenzo Fertitta and other casino executives".
The partnership is expected to be formally announced on Thursday.
One of the partners in Fertitta Interactive, Tom Breitling, revealed that Fertitta Interactive "had no relationship with Station Casino" and that the "Las Vegas casino chain would not be involved in the partnership with Full Tilt".
--
In addition to owning Station Casino Inc., the Fertitta brothers are also the majority owners of the UFC (Ultimate Fighting Championship). It's assumed that the partnership between
Full Tilt Poker
and Fertitta Interactive will result in very cozy ties between the UFC and the world's second largest online poker site.
--
The partnership between Full Tilt Poker and Fertitta Interactive comes on the heels of the Wynn/Pokerstars deal that was announced last week.
One of the major goals of both partnerships is to successfully lobby for a "federal regulatory regime" that would result in the licensing and regulation of online poker in the United States.
--
According to Tiltware CEO Ray Bitar, Full Tilt Poker will continue to operate in the United States under its current name, should an online poker bill be signed into law.
--
With Wynn and the Fertitta brothers all joining the fight, the odds of an online poker bill being signed into law in the United States are getting better by the day.
Source: WSJ.com -
Poker Site, Casino Owners Forge Partnership
--
Filed Under:
Other Poker News