PTR Team To Work on Zynga Poker Product
Published on April 5th, 2011 3:51 pm EST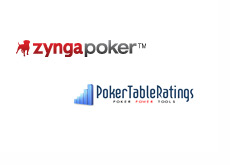 According to Techcrunch.com, Zynga has hired the team behind PokerTableRatings.com.
It's important to note that Zynga is not acquiring PokerTableRatings.com - that site will "continue to be owned and operated by a separate entity". If you currently have an account on PTR, then don't worry, as "all of the user accounts on PokerTableRatings.com will be unaffected by the acquisition".
This is a talent acquisition by Zynga, and the team behind PokerTableRatings.com will apparently be working for Zynga Poker and developing "new and innovative features within the game".
--
In the summer of 2010,
BusinessInsider.com reported that Zynga
was closely monitoring the status of online poker legislation in the United States, and that a source close to Zynga stated that the company "would be excited to move into real-money poker given the opportunity".
Does the hiring of the team behind PTR mean that Zynga is gearing up for a possible entry into the US market? Maybe - it certainly seems possible that Zynga read the recent news regarding the Pokerstars/Wynn and Full Tilt Poker/Fertitta Interactive partnerships and decided to enrich their poker offering in advance of online poker legislation being passed into law in the United States.
--
According to Facebook.com, ZyngaPoker has nearly 37 million monthly active users.
Source: Techcrunch.com -
Zynga Acquires Team Behind Online Poker Statistics Site PokerTableRatings
--
Filed Under:
Other Poker News