Published on April 19th 2007, 8:14 pm EST
According to all accounts, William Gustafik had the perfect life. He was a chiropractor and successful professional poker player. He had a beautiful wife that faithfully supported him at the poker tables, and a beautiful nine year old daughter. He had recently moved into the uber-pimp Panorama Towers, home to other poker pros such as David Williams.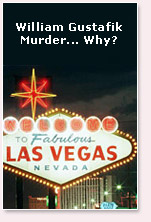 So what happened? How did it go from that seemingly perfect life to William Gustafik ending up dead in said apartment, in a pool of his own blood? What caused his wife to stab him, then flee to San Luis Obispo and try to take her own life, before being discovered by police, hospitalized and then arrested? Did his wife simply have a mental breakdown and snap? Was there much more going on behind the scenes than people were led to believe? What happens to their 9 year old daughter now?
By all accounts, William Gustafik was extremely well-liked and treated his family like gold. He had recently had some success at the poker tables, and it seemed as though this family's great life was only going to get better.
We will of course keep all of our readers fully up to date on information as we receive it. We have a feeling that this strange story is only going to get stranger.
--
Filed Under:
Other Poker News