OIJ Raids Office of Pokerstars, UB/AP
Published on May 6th, 2011 4:09 pm EST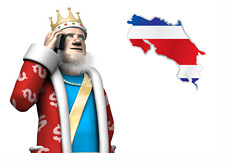 Earlier today, the OIJ (Organismo de Investigación Judicial) raided the offices of both Pokerstars and AP/UB in Costa Rica.
According to Pauly at Tao of Poker, a source of his claimed that the raids may have come as a result of UB/AP employees complaining to the Costa Rican "Ministry of Work" that they were afraid of not being paid.
It appears as though the OIJ hit Pokerstars as well just to ensure that they were planning on continuing to pay all of their support staff in Costa Rica. Here is what a representative from Pokerstars said about the situation on 2+2 just a few short minutes ago:
"PokerStars continues to operate the world's largest poker room, business as usual. It is true that the OIJ is currently at the PokerStars Costa Rican office and has sent employees home temporarily, but employees will be able to return in a few hours. PokerStars expects the office to return to business as usual in short order as this action was most likely taken as a response to problems experienced by other local companies in the same industry."
According to multiple reports, the OIJ left the Pokerstars office in short order and things are now back to normal there.
As numerous people have already pointed out on Twitter, Pokerstars maintains offices in a number of locations, including the Isle of Man, London and Costa Rica.
--
Some people heard about these raids and were worried about their money on Pokerstars. I wouldn't be worried - this seems to be a UB/AP issue.
In regards to UB/AP - the OIJ is apparently in hot pursuit of a number of different people with ties to the company.
If you visit this link
, you can see video from one of the raids from earlier today.
Source: Tao of Poker -
Pokerstars' Office Raided in Costa Rica by Federales
Source: 2+2 -
Pokerstars Statement
--
Filed Under:
Online Poker Rooms