Poker World Heaps Scorn and Hate on Joe Sebok
Published on May 8th, 2011 12:24 am EST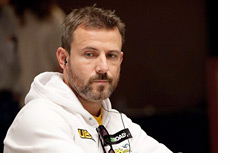 In September of 2009, Joe Sebok raised eyebrows when he inked a sponsorship deal with Ultimatebet (UB).
At the time, Sebok pledged that he was going to be working hard towards making Ultimatebet a more transparent organization. Sebok declared that he wanted to be more than just a sponsored UB player - instead, he also wanted to help the company rebuild its reputation from the ground up.
With UB/AP seemingly in full meltdown mode right now, a worried and angry online poker community (many people have significant sums of cash locked up on UB and AP right now) is taking out its wrath on Sebok.
The normally chatty Sebok, who usually posts many times a day on his Twitter account, has apparently decided that enough is enough. Sebok has gone missing from his Twitter account, with his last post coming on May 2nd.
A look at some of the recent activity in the Twitterverse might give us some insight into why Sebok has decided to stay far away from Twitter in recent days.. a sampling is below:
DougLeePoker: Why is everyone's favorite "conduit of information" @joesebok silent? We're waiting on your resignation & apology. #lolconduitaments
lOWBD: @joesebok resign yet? keep up the good work @ub
Luke_Garvey: @joesebok was sticking up for u despite all the 2+2 hate, but now...guess they were right #CoolScamBro
dougmanct: @joesebok I'm starting a new biz. Biz plan consists of pushing elderly people into traffic. We need a spokesperson. Heard you were the best.
bibr98: @joesebok What the hell is going on Sebok? Bigdogpoket5's said all sponsorship deals were cancelled, so you should be able to speak now
GEBustos: @RealKidPoker I don't think @phil_hellmuth @AnnieDuke @joesebokshould be given walks on UB! They all cashed the checks and players got f'D
ReynoldsXO: @joesebok Your time n energy has been spent on fabricating lies and deceit-you failed n brought down amateurs n pros alike- Be#ashamed
NoahSD: @joesebok Will you guarantee player funds on Cereus like @Tom_Dwan did on FTP?
Buffyslayer1: @joesebok hey sell out, why you not tweeting you have 365 days of the year. taken your UB money and run?
golfncards: @joesebok make a statement you spineless bitch
floptopset: @joesebok how come no word from you regard people's $$$ on UB. Just so shady of you. People r asking ?'s they deserve an answer!!!
johnnyfinn26: @joesebok, I have been a long time fan and supported your move to UB. Not impressed with silence regarding UB payouts. Is my money gone?
BCM11: @joesebok At least you got your money, nice beach house. Karma's a bitch
im_broke420: @joesebok How does it feel to be the most hated person in poker?
bobbitto: @joesebok I guess it was all for naught huh? Man recovering your reputation is going to be tough. I wish you luck,
ramagosr: @joesebok thanks for the site Rec, Joe. They did a great job of stealing my money.
joeyrulesall: @joesebok at least you have NBA to watch and tweet about now that your reputation is ruined you piece of crap
JahedMomand: @joesebok scumbag
brendanhagler: @joesebok Where's the money Joe?You screwed the little guy. The average player like me will never forget. #poker #UB
ToddWitteles: lol @joesebok and @prahladfriedman tweeting about NBA Playoffs as the company they shilled/lied for comes crashing down. Fiddle away Nero!
Photo: GreasieWheels.com
--
Filed Under:
Online Poker Rooms